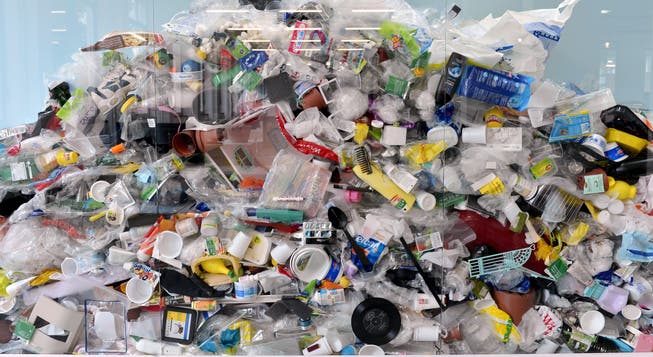 environment

14,000 tons of plastic waste per year: the Federal Council is still waiting
In Switzerland, people recycle as much as they can. Nevertheless, 14,000 tons of plastic waste end up in our environment every year. High time to act? Not for the Federal Council.
We are world champions in recycling – or at least we think so. When it comes to plastic waste, many people think of polluted seas and mountains of waste in other parts of the world. Now the self-image is cracking. The reason is a report published by the Federal Council on Friday.
Despite a well-functioning disposal system, around 14,000 tons of plastic are released into the environment in Switzerland every year, is the main finding. The problem: Plastics break down into smaller and smaller particles through natural processes and degrade only slowly – with negative consequences for the environment and health.
More than half of the plastic residues are caused by abrasion of tires in traffic. The Federal Councilor identifies littering as other important causes of plastic pollution, as well as plastics in green waste, which then end up in the environment with compost. At home, cosmetics and washing synthetic textiles are considered culprits.
Parliament's turn
As clear as the analysis is, the Federal Council remains vague as to how it intends to tackle the problem. Although he sees "potential for improvement", he has decided not to take any concrete measures for the time being. He sees Parliament as having an obligation. Specifically, he refers to a revision of the law that the National Council Environment Commission initiated in 2020. The aim is to create the framework for a modern, environmentally friendly circular economy.
Nevertheless, the Federal Council insists on pointing out a possible direction. The focus should primarily be on avoiding waste and promoting recyclable materials and environmentally friendly alternatives. The report proposes a "combination of awareness-raising measures, development of new technologies, process optimization and prohibitions and requirements".