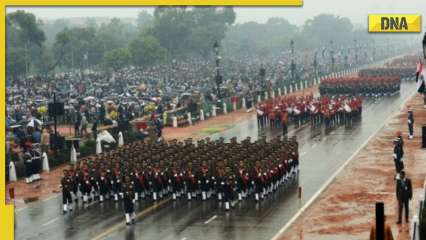 Republic Day 2023 Traffic Advisory: Check Delhi Restrictions, Alternative Routes, Timing for Jan 26 (File Photo)
India is all set to celebrate its 74th Republic Day on January 26 with a grand ceremony at Kartvayapath in Delhi. In view of the festivities, the Delhi Traffic Police has issued a traffic advisory for the day and imposed some traffic restrictions for the smooth running of the parade.
No traffic is allowed on the Kartvyapath from Vijay Chowk to India Gate from 6pm on Wednesday until the parade is over, the advisory said. No cross traffic on Kartvyapath from 10pm Wednesday at Rafi Marg, Janpath, Man Singh Road until the parade is over, it added.
Extensive traffic arrangements and restrictions would apply on Thursday. The parade starts at 10:30 AM from Vijay Chowk and proceeds to Red Fort Ground. There is a related function at India Gate at 9:30 AM.
Route of the parade: Vijay Chowk – Kartavyapath – C – Hexagon – R/A Statue of Subash Chandra Bose – Tilak Marg – Bahadur Shah Zafar Marg – Netaji Subhash Mary – Red Fort.
C-Hexagon-India Gate will be closed to traffic from 9:15am on Thursday until the parade passes Tilak Marg. As of 10:30 a.m. on Thursday, traffic on Tilak Marg, Bahadur Shah Zafar Marg and Subhash Marg will no longer be allowed in both directions. Crossing traffic is only allowed depending on the movement of the parade, the advisory said
Alternative routes for motorists: To head towards Mandir Marg, commuters can take the route from Madarsa, Lodhi Road T-point via Aurobindo Marg, AIIMS Chowk, Ring Road-Dhaula Kaun Vande Matram Marg, Shankar Road, the advisory said.
Suggested Itineraries: North-South corridor

Ring Road-Ashram Chowk-Sarai Kale Khan-LP Viaduct-Rajghal-Rong Road
From Madarsa-Lodhi Road T Point-Aurobindo Marg-AIMS Chowk-Ring Road-Dhaula Kuan-Vande Matram Ma
Shankar Road-Park Street or Mandir Marg.
East-West Corridor

Ring Road-Baron Road-Mathura Road-Subramaniam Bharti Mary-Rajesh Pilot Marg-Prithvi Raj Read-Salaijun
Road-Kamal Ataturk Marg-Panchsheel Marg-Simo Boler Mar-Upper Ridge Road Vande Matram Marg
OR

Ring Road 4SBT-Chandai Ram Akham-Mal Roat-AzadPu Ring Road.
Ring Road-Bhairon Road-Mathura Road-Lodhi Road Aurobindo Marg Safdarjung Road Teenager Murti Marg-Mother Teresa
Crescent-Park Street-Shankar Road-Wande Matram Marg.
In front of New Delhi railway station

From South Delhi: Dhaula Kuan-Vande Matram Marg-Panchkuan Read-Outer Care Connaught Place-Chelmsford
Road for Paharganj Side or Minto Road-Bhavbhuti Marg for Ajmer Gate site.
From East Delhi: Boulevard Rost via 155T Bridge-Rani Jhansi Fly RIA Jhandewalan-DB. Guple Road- Sheela Cinema Road Pahangany Bridge and reach New Deli Rly Station
READ | Who is Abdel Fattah El-Sisi, the Egyptian President and Chief Guest on Republic Day 2023?

For old Delhi railway station
From South Delhi: Ashram Chowk-Barai Ring Road Kale Khan-Rajghat Ring Road-Chowk Yamuna Bar 5 .P. Mukherjee Marg-Chat Ra+Kaura Bridge and reach Old Delhi Rahway Station.
A total of 23 tableaus, including 17 from states and territories of the Union, and six from ministries and departments, will roll down the Kartavya trail during the Republic Day parade on January 26.
.