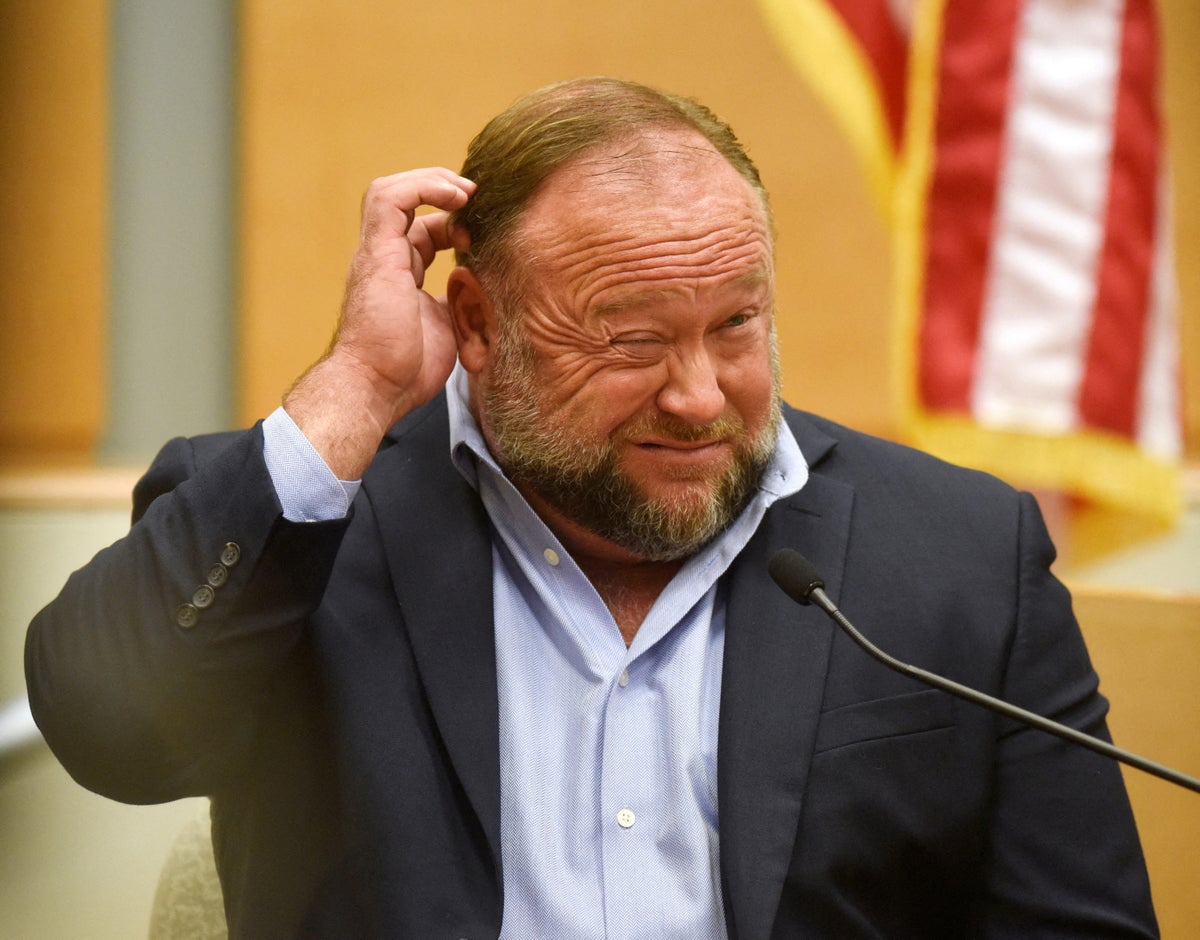 Alex Jones yelled that he was "finished with apologizing" for spreading lies that the Sandy Hook massacre was a "hoax," as relatives of some of the victims watched in courtroom crying.
The Connecticut courtroom fell into chaos Thursday as the far-right conspiracy theorist took a stand in his defamation lawsuit, refusing to admit any responsibility for causing a decade of harassment against the victims' families.
"I've said I'm sorry hundreds of times. And I'm done saying sorry," he yelled across the courtroom.
Mr Jones – who spent much of the trial mocking the proceedings on his Infowars show – vowed he "will not apologize" for his actions, as he complained that "people think I have the kids murdered".
The dramatic scene unfolded when Christopher Mattei, a lawyer for the victims' families, confronted Mr. Jones with the people he accused of being "crisis actors" almost as soon as their children and loved ones were murdered in one of the worst shootings on the planet. schools in American history.
Jurors were shown heartbreaking footage of Robbie Parker speaking to reporters the day after the 2012 massacre.
Parker's six-year-old daughter, Emilie, was one of 26 students and staff killed in the Sandy Hook Elementary School mass shooting.
He swallowed the tears as he paid tribute to his little girl who "made the world a better place" for being in it.
"My daughter Emilie would be one of the first to give all her love and support to the victims," ​​he said.
"Because that was the type of person she was."
He told reporters about the last moments he had with Emilie the morning of the massacre.
After the judges looked at the heavy footage, Mattei pointed to Parker in court and asked Jones if "Robbie Parker is real."
The right-wing extremist admitted "yes" – after years of claiming that the parents of the murder victims were "crisis actors" whose children never even existed.
"For years you've put a target on his back, haven't you?… Just like every parent and loved one sitting here," said Mr. Mattei.
Mr Jones denied that and tried to argue that he did not specifically name the relatives.
When Mr. Mattei told Mr. Jones that "these are real people," the Infowars host started a wild rant about "liberals" and "Iraqis" before asking if he was "in China".
"Just like all the Iraqis you, liberals, have killed and loved. You are incredible. You switch emotions on and off as you please, it's just ambulance chase," he raved.
Mr Mattei told the conspiracy theorist to "show a little respect" when relatives of the victims killed in the 2012 massacre sat in court and heard his tirade.
"You have families in court who have lost children, sisters, wives and mothers," Mr Mattei said.
Unfazed by the statement, Mr. Jones lost his temper and went on the defensive, vowing not to apologize again for the pain he caused and doubling down that he "legitimately" believed his own lies when he first said them.
"Is this a battle session, are we in China? I've said I'm sorry hundreds of times and I'm done saying I'm sorry. I didn't generate this, I wasn't the first to say it… but I rightly thought it was staged, so I'll stick with that. And I won't apologize for it," he said furiously.
"I've apologized to the parents over and over again, I don't apologize to you. I make no apologies."
As Mr. Jones and Mr. Mattei continued to spar with each other, Mr. Jones's attorney repeatedly yelled "objection" over the uproar.
Judge Barbara Bellis eventually warned both lawyers about their behavior in a sidebar, before telling Mr. Jones to "respect" the court and remind him that the courtroom is "not your show."
"This is not a press conference, this is clearly not your show. You have to respect the process," she told him.
Mr. Mattei further asked Mr. Jones if there will be more mass shootings in the future, to which he once again jumped on the defense, suggesting the lawyer accused him of carrying out an assault.
'You mean I'm going to shoot someone? How should I know that? As if it's my fault, people think I killed the kids," he fired back, before acknowledging that "probably will be there."
Mr Mattei challenged Mr Jones whether he will continue to spread lies about victims of future mass shootings.
Jurors were shown content posted to Infowars just three weeks ago, showing that he continues to push through the false claim that mass shootings could take place.
In a survey on the website, viewers were asked, "What will be the most likely deep state false flag before midterm exams?"
Of the four multiple choice answers, the top one read, "Mass shooting."
"When the next mass shooting hits, we all know what you're going to do… You're already conditioning your audience to be staged," Mr Mattei said.
"You invite your audience even now that the next people – the next Robbie Parker – is an actor."
Jones began spewing false claims just hours after the 2012 massacre in Newtown, Connecticut, claiming on his conspiracy site that the mass shooting was "a giant hoax" and that the victims were "actors."
He continued to spread the lies to his followers for years, claiming it was a "false flag" operation.
While Mr Jones profited financially from spreading his lies, the victims' families were harassed and threatened in person and online for years by his followers.
On Wednesday, the parents of some of the young children killed in the 2012 attack gave heartbreaking testimony in court about the toll Jones' actions had taken on them.
David Wheeler burst into tears as he told how the conspiracy theorist's lies had prompted strangers to show up at his door and demand that he see his murdered six-year-old son Ben.
"Someone came to the house and knocked on the door. The person demanded to see Ben and said, 'I know he's here, I know he's alive,' said Mr Wheeler.
"It felt like I was underwater. I didn't know which way was up. Having someone publicly tell the world that it didn't happen, that you're a cheater and a fake is incredibly disorienting."
Erica Lafferty, the daughter of Sandy Hook director Dawn Hochsprung who also died in the massacre, testified that she was forced to relocate five times to escape the threats and harassment.
"For 27 years of my life, that woman was my best friend," Ms. Lafferty said of her mother.
"When people tell me she didn't exist, how do you let that happen?"
This is the second defamation lawsuit in a lawsuit Jones lost with the families of Sandy Hook victims.
At a trial in Texas last month, Mr. Jones admitted he knew the 2012 massacre was real — and not a "hoax" as he previously claimed it was.
In that case, he was ordered to pay $4.11 million in damages and $45.2 million in punitive damages to Neil Heslin and Scarlett Lewis, the parents of six-year-old victim Jesse Lewis.
Now jurors in Connecticut will decide how much Mr. Jones should pay those families in damages.