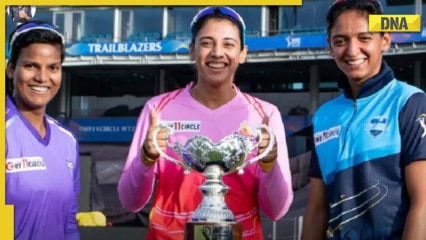 The Board of Control for Cricket in India (BCCI) announced the successful bidders for the Women's Premier League on Wednesday. In a historic achievement for women's cricket, BCCI announced that five teams of the inaugural Women's Premier League were sold for a combined value of Rs 4669.99 crore.
READ | Flipkart Republic Day Sale 2023: Check out the best deals on THESE smartphones

Check out the five proprietary franchises for WPL

1. Adani Sportsline Pvt Ltd – Ahmedabad – 1289 Cr
2. Indiawin Sports Pvt Ltd – Mumbai – 912.99 Cr
3. Royal Challengers Sports Pvt Ltd – Bengaluru – 901 Cr
4. JSW GMR Cricket Pvt Ltd – Delhi – 810 Cr
5. Capri Global Holdings Pvt Ltd – Lucknow – 757 Cr



BCCI Secretary Jay Shah also took to Twitter to announce that the bidding for the WPL's inaugural teams "has broken the records set in the inaugural men's IPL in 2008."
READ | 'I'm getting threats…': senior congress leader AK Antony's son leaves congress after row over TUSEN documentary

Jay Shah tweeted: "Today is a historic day in cricket as the bidding on teams from inaugural #WPL broke the records of the inaugural men's IPL in 2008! Congratulations to the winners as we have collected a total of Rs.4669.99 Cr This marks the beginning of a revolution in women's cricket and paves the way for a transformative journey ahead, not just for our female cricketers, but for the entire sporting association."
"The #WPL would bring needed reforms to women's cricket and would ensure an inclusive ecosystem that benefits every stakeholder," he said.
Jay Shah also confirmed that the league has been officially named the Women's Premier League.
.