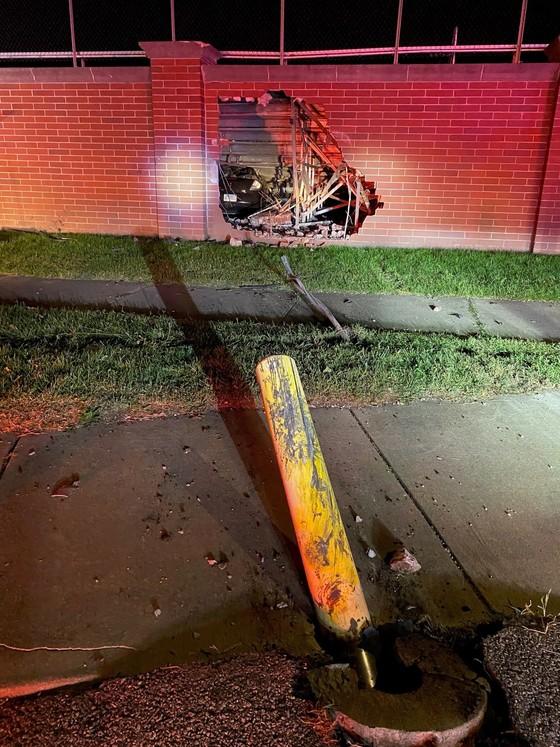 MICHIGAN CITY, Ind. (TUSEN) – A Bourbonnais man has died after crashing into the stands of a Michigan City stadium on Thursday night.
Michigan City Police said around 8:10 p.m. that Illinois State Police were being asked to investigate a fatal accident in the area.
A preliminary investigation by an ISP trooper says MPD saw a vehicle heading east in the western lanes of Michigan Boulevard.
The officers tried to initiate a traffic stop, but the driver refused to stop, resulting in a chase, ISP said.
The driver continued to flee and reached a high speed as he drove south from Barker Avenue on Washington Street. According to ISP, he did not stop at the intersection of Skwiat Legion Avenue.
The vehicle then hit the concrete pillars that form a barrier to Ames Field before entering the brick wall of the grandstands. The vehicle came to a stop under the stands.
The driver had to be freed from the vehicle, ISP said.
Life-saving measures were taken against the man, but he was pronounced dead at the scene by the LaPorte County Coroner's Office.
The driver was identified as 18-year-old Grant J. Grable, 18, of Bourbonnais, IL. The LaPorte County coroner has issued a report to the next of kin.
Indiana State Police are investigating the crash and are reconstructing the site at the request of the Michigan City Police Department.
Michigan City Police Department, Michigan City Fire Department, Cloverleaf Towing, LaPorte County Coroner's Office and the Indiana State Police Crash Reconstruction Team are assisting at the scene.
.