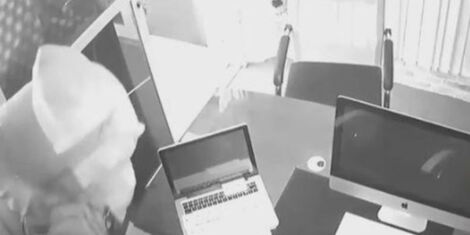 Police in Nakuru launched a manhunt for two suspected armed robbers caught on CCTV cameras allegedly robbing a mobile money agent of Ksh 1.7 million in broad daylight.
The CCTV footage showed the prime suspect, a student of Kisii University and a close relative of the business owner, opening the door for his accomplice, who drew a Ceska pistol and pointed it at the mobile money agent's employee.
During the brawl, the suspects were beaten the agent before putting the money in their bags and leaving for the November 2022 incident.
Just before the robbery, the employee had deposited the previous day's income at a nearby financial institution.
The prime suspect is seen in another room allegedly trying to access the CCTV camera's memory card.
Citizen TV
According to CCTV footage, the employee returned to the store at 8:50 a.m., six minutes before the second suspect entered with a bag containing the weapon.
The Kisii University student had been waiting seemingly restlessly in the customer lounge.
Before carrying out the robbery, the student handcuffed the store clerk and even covered his mouth before they collected all the money.
The shop owner filed a report at Nakuru Central Police Station, where he accused the Kisii University student of unsuccessfully trying to remove the memory card from the CCTV camera.
"We have profiled their communications and we are trying to identify who the second suspect is because one is known. I know we will catch them very soon," said Nakuru police chief Peter Mwanzo.
At the same time, detectives in Nakuru placed the attacker's signal near Isibania, a town bordering Tanzania.
However, police urged the public to voluntarily provide information that could aid in the arrest of the suspects.
"There are one or two isolated problems here and there. But we want to develop a clean slate and we have more patrols and surveillance," Mwanzo said as he assured Nakuru residents of their safety.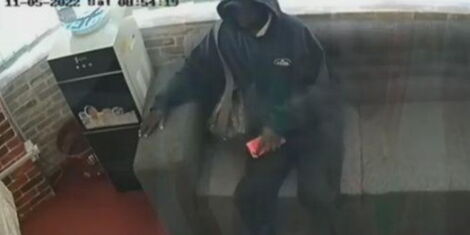 The prime suspect is here in the lounge waiting for his accomplice.
Citizen TV
armed gun to arrest suspect armed