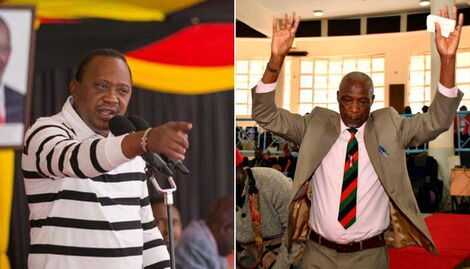 Kenyatta University Council has ignored orders from the Labor Court blocking Vice Chancellor Paul Wainaina's resignation.
In a statement dated Friday, August 5, KU Council President Chrispus Kiamba noted that Wainaina has been replaced by Waceke Wanjohi, who will be the acting VC until a permanent replacement is found.
He urged all staff and students to provide Wanjohi with all necessary support to ensure the continued stability of the university.
President Uhuru Kenyatta (left) and former Kenyatta University Paul Wainaina.
File
"The attention of the university community is drawn to a decision of the Hon. Justice Gakeri of the Employment and Labor Court in Nairobi on August 4, 2022, in which the court rejected a request from Prof. Paul Wainaina for injunctive relief.
"As a result of the above developments, the Council has decided that Prof. Waceke Wanjohi will remain the Acting Vice-Chancellor of the University until further notice," the statement read in part.
This comes amid orders from Judge Jacob Gakeri who temporarily prevented Wainaina's suspension and referred the case to a judge on July 28 for a hearing between the parties.
Pending the consideration and decision of this request between the parties, this Honorable Court is pleased to issue a temporary injunction suspending the execution of the decision contained in Professor Crispus Kiamba's letter of 12 July suspending, terminating and /or resignation of the petitioner from the Vice-Chancellor's office, leaving his post vacant and/or having his salary withdrawn," Judge Gakeri ruled.
Wainaina, through his attorney, has filed a petition to obtain the court order to prohibit the execution of the orders of the head of the public service, Joseph Kinyua, arguing that the termination of Wainaina's employment is reserved to the University Council.
"The petitioner has been wronged in this and this honorable court should remedy the said injustice by the head of the public service by urgently delaying the contested suspension," the controversial VC told the court through his lawyer.
Wainaina's attorney, Manwa Hosea, had requested the court issue a pre-trial order suspending the decision in a July 12 letter from Kiamba suspending the VC and appointing Wanjohi to an acting capacity.
President Uhuru Kenyatta was engaged in a war of words with Wainaina as he opposed plans to cede some of the institution's land to the World Health Organization for the construction of the Ksh 600 million emergency center that would support regional operations. can take care of.
Wainaina's resignation caused the president to receive sharp criticism from some of the leaders affiliated with Vice President William Ruto, who accused him of trying to interfere in the management of independent public institutions.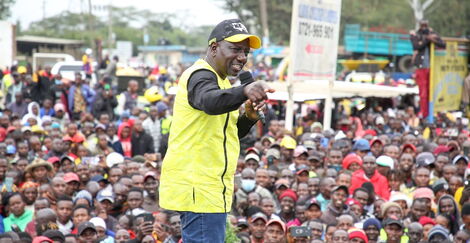 UDA flag bearer William Ruto campaigns in Salgaa, Nakuru County on Monday, August 1, 2022
William Ruto