The Directorate of Criminal Investigations (DCI) revealed on Wednesday, November 23, that they are working on two special units to help curb crime in the country.
DCI is already recruiting a special team of snipers from the General Service Unit (GSU) and the Anti-Stock Theft Unit (ASTU).
These special units will be strategically stationed across the country to deal with specialized criminal activities.
"It's a normal reorganization of the services, but special units have special tasks," Amin noted.
DCI boss Mohamed Amin
citizen digital
The units are being formed at the request of new DCI boss Amin Mohammed.
Amin requested both the Deputy Inspector General in charge of administration and the police to shortlist 50 candidates from both GSU and ASTU.
The names of the potential candidates will be forwarded to the headquarters of the respective units for screening.
"The units are not meant to destroy but to protect, that's what the police do," Amin assured.
According to Amin, the shortlisted officers should not be older than 40 years old and should not have any disciplinary problems.
The candidates must also have served with their unit for a minimum of five years before joining the special forces unit.
The formation of the two specialized units comes just weeks after the disbandment of the Special Service Unit (SSU) and several days after the disbandment of the Anti-Counterfeit Unit (ACU).
The SSU and ACU were formed by former DCI boss George Kinoti, who resigned and was transferred to the public service.
The Special Service Unit was disbanded in October 2022 after its members were found to have participated in the kidnapping and disappearance of two Indian nationals working for President William Ruto's campaign team.
The two Indians went missing on July 25 after being kidnapped outside a popular hotel in Nairobi along with their taxi driver Nicodemus Mwania.
DCI Amin announced on Tuesday, November 22, the dissolution of the anti-counterfeiting unit established in 2018.
Officers from the anti-counterfeiting unit were transferred to various units across the country.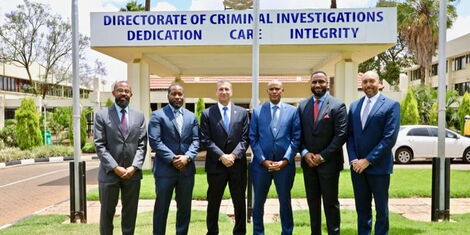 DCI Chief Amin Mohamed (fourth from left) poses for a photo with Federal Bureau of Investigations (FBI) officials on Thursday, November 10, 2022
Twitter
DCI
criminal kidnapping