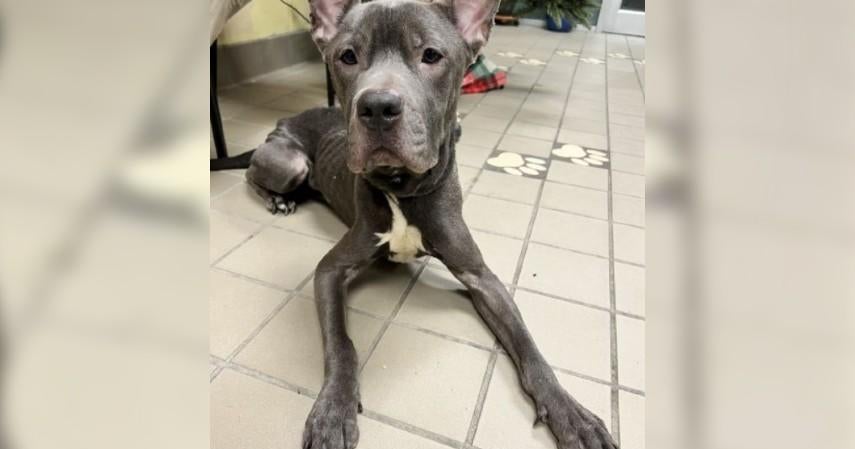 RICHARDSON, Texas (TUSEN) — A dog abandoned in Richardson just before Christmas has captured the hearts of animal lovers across the country.
Now, Richardson Animal Services hopes that attention translates into a home for the dog, and will serve as a cautionary tale for pet owners.
This story begins like so many others: with a change of heart in the face of a furry relative and one left in a dark parking lot in the middle of the night.
But what makes this one different is that he was caught on CCTV by the Richardson Animal Shelter.
"You could see a little blur of an animal wandering all over the parking lot for a few hours," says Richardson Animal Shelter manager Noura Jammal.
In the video, the dog patiently waits for his owner to return. Eventually, he finds the shelter's front door and curls up in a donated bed and blankets, protecting himself from the elements.
"It was a super cold night. Windy and about 40 degrees out there," Jammal said.
Seven hours later, officers finally discover him when they arrive at work.
"He was at least 20 pounds underweight," Jammal said. "And you could tell he was definitely neglected."
Through a microchip, they discovered that he is a three-year-old mixed breed named Khazi.
Richardson Animal Shelter contacted the police, hoping to find and charge Khazi's owner. But it turned out to be a dead end, so they focused on getting him back to health.
The shelter's social media post on Khazi received tens of thousands of likes. His message? If you can no longer care for your pet, contact your local shelter for resources.
"There is always something you can do. Abandonment is not the solution," Jammal said.
Five weeks later, Khazi is warm, happy and playful.
He is ready to share that joy with a forever family.
"I feel like he's just a big dog who just wants someone to love him and give him a good home, and he's going to treat you right for the rest of his life," said Jammal, "
Anyone interested in adopting Khazi can click here or call the Richardson Animal Shelter at 972-744-4480.
.