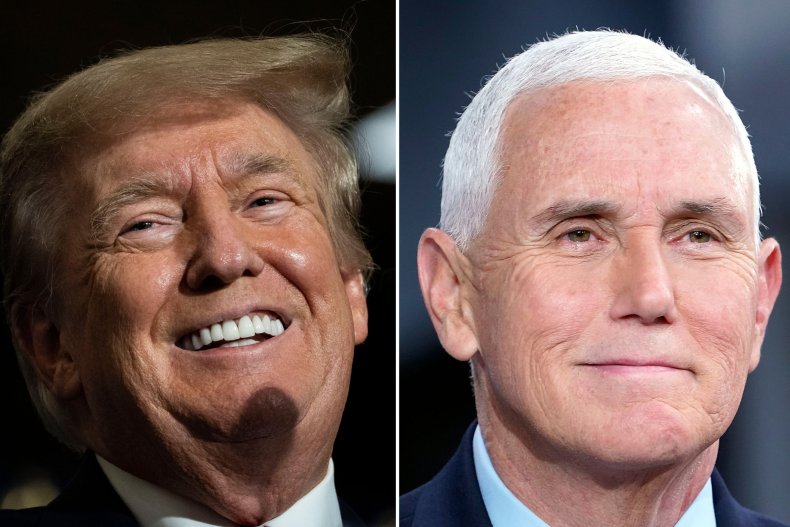 Despite their division, former President Donald Trump rushed to defend former Vice President Mike Pence after classified documents were discovered at his Indiana home last week during a search.
Hours after the news broke Tuesday, Trump urged people to leave Pence alone in a Truth Social post.
"Mike Pence is an innocent man. He has never knowingly done anything dishonest in his life. Leave him alone!!!" wrote the former president.
TUSEN first reported that one of Pence's lawyers had discovered about a dozen documents with secret markings at the former vice president's home in Carmel, Indiana, after Pence himself said he had no such documents in his possession.
It is reported that Pence very cautiously asked his attorney to conduct a search and that the National Archives and Justice Department were immediately notified.
The discovery at Pence's home also comes as both Trump and President Joe Biden have become embroiled in their own respective scandals.
In August, FBI agents executed a search warrant and seized hundreds of classified documents from Trump's home in Mar-a-Lago.
Then, in November and December, Biden's team found Obama-era documents in a former office used by Biden and at his home in Delaware. However, those discoveries were not made public until earlier this month, and more documents have been found since the White House revelations.
Trump has criticized federal agencies for raiding his Florida residence and accused Democrats of causing their own headaches by blowing up the case in August, now placing Biden in front of fierce criticism.
"They've created this Documents mess for themselves by being so COMPLETELY WRONG about me, and I've got NOTHING WRONG!!!" Trump wrote on Truth Social on Saturday.
Trump's decision to defend Pence on Tuesday was a rare move by the former president, who publicly fell out with his former second-in-command after Pence failed to block the certification of the 2020 election as Trump requested.
While many of his supporters chanted statements such as "hang Mike Pence" during the storming of the Capitol on January 6, 2021, Trump did not call for crowds to back down, nor was he currently defending Pence.
"We had a close working relationship for four years. It didn't end well," Pence wrote in his new memoir, So help me God.
Pence said he and Trump remained in touch in the months following the U.S. Capitol uprising, but that when Trump returned to promoting claims of stolen elections and began publicly criticizing those who voted to control the results of the election, certifying, "I decided it would be best to go our separate ways."
After a raid on Trump's home in August, Pence said: "I have not hesitated to criticize the president if I think he was wrong. And it is clear that possessing classified documents in an unprotected area is not appropriate it."
During the same performance in November on Meet the pressPence also criticized the DOJ for how it handled the case related to Trump, saying "there had to be a lot of other ways to solve those problems" that didn't involve the search warrant.