AAll names of the dead from a mass shooting in California had not been released when news alerts began again Monday afternoon: there had been another shooting. There was one other gunman at large. There were seven more dead.
Gun violence takes its toll in California on a daily basis, but the brutality, scale and pace of the past week felt different. Over the course of just eight days, at least 25 people were killed in four separate mass shootings, defined as any shooting that left at least four people injured.
The murders — which took place in a major city, a placid Los Angeles suburb, and two small farming towns — have left residents shocked, exhausted, and frightened, and calls for some fundamental change have been renewed.
"This proliferation of violence just seems to go on forever," said Tinisch Hollins, executive director of Californians for Safety and Justice, an advocacy group for violence survivors. "It is now so common to hear about mass shootings that they don't even stay in the headlines. Less than a day later we are talking about a completely different incident. It's horrible."
On average, five California residents die every day from gun homicides, but mass shootings show how violence can rock every community in the state, from rural enclaves to quiet suburbs.
"At some point you get tired of 'thoughts and prayers'. You get tired of writing statements," said Fernando Rejón, executive director of Urban Peace Institute, a California-based community security organization. "And you keep asking yourself: what will be the tipping point? After Uvalde and all those recent mass shootings, you think they'll be the tipping point, but it's not.'
A Saturday night shooting in Monterey Park, California, America's first "suburban Chinatown," targeted a ballroom dance studio popular with older Asian-American clientele on the eve of the Lunar New Year. Police said they were still trying to understand why the gunman, a 72-year-old Asian-American man, had killed 11 people and wounded nine others, in a studio he had apparently frequented for years.
Monday afternoon, a 66-year-old Asian-American man opened fire on current and former colleagues at two mushroom farms in Half Moon Bay, northern California, officials said. Some of the killings reportedly took place in front of children living nearby, an official said: "It is unspeakable that children are witnessing this," she said. One person was injured and seven people died.
Less than four hours after the shootings in Half Moon Bay early Monday night, a group of people in Oakland were reportedly filming a music video when the shooting broke out near a gas station. An 18-year-old was killed and four other people were shot, ranging in age from 19 to 56, the East Bay Times reported. The perpetrators remained at large.
There seemed to be no limit to the age or vulnerability of the people at risk of being shot. Less than a week before the Monterey Park shooting, a 10-month-old baby had been shot dead at home in Goshen, a small town in central California, in a shooting that killed six people across five generations of one family.
A 72-year-old woman was shot in her sleep. Sixteen-year-old Alissa Parraz and her son Nycholas were found together in a ditch outside their home, where they appeared to have tried to flee the attack. All were shot in the head.
Samuel Pina, Elyssa's grandfather, said the family was in shock: "It comes with big waves."
The gunmen in Oakland and Goshen were still unidentified and at large.
Officials said the Half Moon Bay gunman drove himself to a local sheriff's office after the murder, where he was arrested in the parking lot. The 72-year-old who opened fire in the California dance hall shooting died by suicide after being apprehended by police the morning after the shooting.
But even in communities where the killers had been identified and were no longer a threat, there were still more questions than answers about the sudden violence and what could have prevented it.
"Ultimately, there are just too many guns in this country. And something has to change," Dave Pine, a local San Mateo county lawmaker, said Monday after the mushroom farm shooting.
Gun laws
California, the largest US state and one of the largest economies in the world, also has the strictest gun laws in the country. In 1989, it became the first state in the country to ban military-style assault weapons.
The per capita gun homicide rate is lower than the U.S. average and significantly lower than many Republican-majority states, such as Louisiana and Mississippi, which have much more lenient gun control laws.
But even California's Democratic supermajority, which has continued to pass a wide variety of new gun regulations, can only do so much in a country where gun rights are tightly protected. Gunmakers have produced new military-style guns that meet the letter of California's assault weapons prohibition law while functioning in similar ways to the original guns. More conservative states with more permissive gun and ammunition purchase laws, such as Arizona and Nevada, are just a short drive away. Police across the state have seized an increasing number of "ghost guns," homemade guns with no serial numbers.
At the federal level, gun rights absolutists continue to gain political power in the courts.
A single George W. Bush-appointed California federal judge, Roger Benitez, has become famous for striking down California's gun control laws.
The U.S. Supreme Court's new pro-gun majority, fought over by the National Rifle Association and secured by Donald Trump, has already expanded the legal scope of the Second Amendment, which they defined last year as protecting citizens' right to publicly bear guns. to wear for self-protection. California is now being forced to rework its gun control statutes to comply with new constitutional standards.
While some Californians continue to advocate for even stricter gun laws, moments of crisis, including high-profile shootings, also involve the sale of fuel guns. California's gun purchases surged during the early months of the Covid-19 pandemic, with an estimated 5 million Americans nationwide becoming first-time gun owners in 2020 and 2021.
Amid a rise in anti-Asian hate crimes, there has been a notable increase in the number of Asian Americans buying guns to protect themselves.
Community anti-violence programs exist throughout the state, many of which focus on identifying and working with potential perpetrators of gun violence. But these local programs are often understaffed and overstretched.
"We have solutions that we know work. But they are not funded," said Dr. Joseph Griffin, Executive Director of Youth Alive! in Oakland, which helps victims of violence.
'We must come together'
The onslaught of back-to-back tragedies is having a cumulative impact on California residents, creating a sense of fear and desperation, especially for people who see themselves in the victims who were targeted, lawyers said.
Hollins, a San Francisco resident who lost two brothers to violence, said the news cycles can be particularly traumatizing for people who have previously survived violence or have relatives killed in shootings, noting that the recent police killings in the is also the voltage. "Some of us develop a measure of compassion fatigue doing this work. It is not a lack of compassion for those who have been harmed, but there is only so much you can process and retain from all of these experiences. And so people sometimes dissociate, and it can lead to this feeling of hopelessness.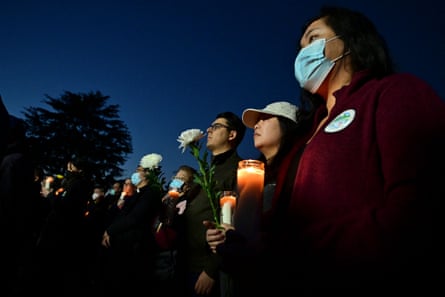 Still, Hollins said she hoped for unity across communities and racial lines, and resources provided for those affected to recover: "I don't want these conversations to further fuel a political debate about which communities deserve more or are more responsible for the violence we see happening. We clearly have a systemic and societal issue that cuts across communities and affects us all."
Some survivors had more barriers to getting help than others, local lawmakers said.
The victims of the Half Moon Bay shooting were Chinese and Latinos, officials there said. Half Moon Bay Vice Mayor Joaquin Jimenez said some of the farm workers targeted were undocumented, which may have made them more hesitant to seek mental health or other services.
"There's a lot of fear," Jimenez said. "It's going to be very difficult for them to come forward and ask for help."
Nicole Lee, executive director of Urban Peace Movement, a racial justice group in Oakland, said that after mass violence, the priority is often to expand the police presence: "When people are scared, they want a quick fix. always be with every block, and in many cases they can't stop these situations, so how can we intervene that really keep us safe?
Lee, who is Chinese American, said it was also baffling to learn that the suspects in two separate mass shootings were elderly Asian men. While it was too early to draw conclusions about what led to the violence, she noted that many Asian Americans in older generations may be struggling with untouched trauma, including from surviving the war.
"I don't think we pay attention to the mental health needs of immigrant communities and Asian communities, especially when there are language and cultural differences," she said. "Not all cultures are comfortable talking about trauma and mental health. And most of all… with the elderly there is often pressure not to talk about these things."
Lee hopes this will change: "People need to be listened to and they really need space to come together and support each other."
The The US Express News contributed reporting