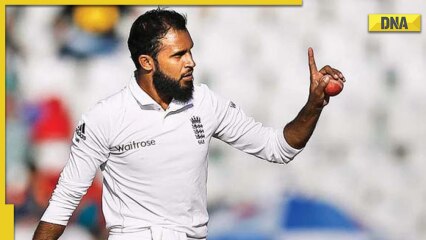 England will be without Adil Rashid in next month's white-ball series against India as the player has received permission from the country's Cricket Board (ECB) to perform Hajj in Mecca.
Rashid, a practicing Muslim, will fly to Saudi Arabia on Saturday, missing the final stages of Yorkshire's T20 Blast campaign.
"I've wanted to do it for a while, but the schedules made it really difficult. I felt like it was both something I had to do and something I wanted to do this year," said Rashid at The US Express News.
"I've spoken to the ECB and Yorkshire about it and they've been very understanding and supportive, like, 'yes, you do what you have to do and come back when you can'.
"Me and my wife are going and I will be there for a few weeks," he added.
Rashid was part of England's recently concluded tour of the Netherlands, where the visitors comfortably won the three-game ODI series 3-0.
"It's a big thing for my faith and for myself. I knew I had to do it while I'm young, strong and healthy. It's something I'm really committed to doing," Rashid said.
India will face hosts England in a series of white balls, including three T20Is and as many ODIs from July 7-17.
Rashid is set to miss all six games as he is expected to return in mid-July, ahead of England's clean sheet series against South Africa.
But the 34-year-old claimed the decision to make the holy pilgrimage "had nothing to do with cricket".
"It wasn't like, okay, I was playing India – I better not go. It didn't really cross my mind. It was purely: okay, I'm going – the decision was irrelevant to cricket, in that sense," he claimed.
.