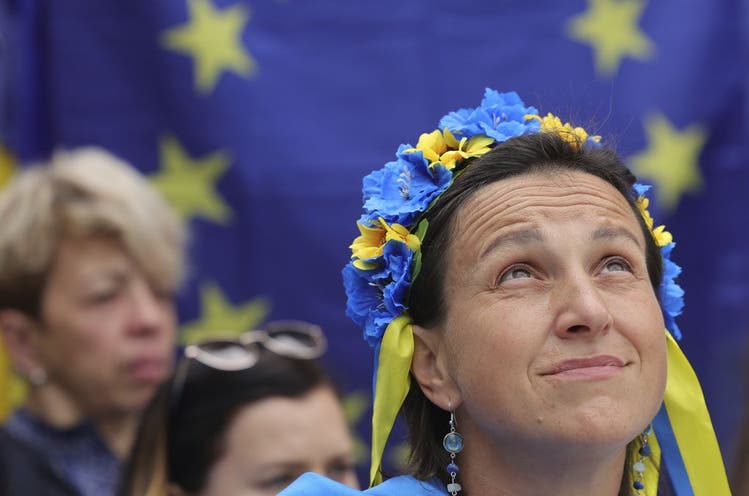 JOIN THE EU

As Ukraine Becomes Candidate: Balkan States Express Frustration to EU
Kyiv is granted the status of candidate country by the European Union. In the second geopolitical project, the Western Balkans, however, the EU countries must be accused of failure.
It was a happy day for Ukraine: at Thursday's meeting of 27 EU heads of state and government in Brussels, there were signs of broad support for granting the country candidate status. accession to the EU. The decision scheduled for the evening was only a matter of form.
When the first chapters of the accession negotiations can be opened, it is written in the stars. Ukraine still needs to do its homework and implement reforms in the areas of the rule of law and corruption. And even then, it takes a unanimous decision from Heads of State and Government for things to really get going.
Frustrating: Balkan has been on hold for almost 20 years
These two examples show how long it can take: North Macedonia has been a candidate for membership for 17 years and is waiting for the start of negotiations. Albania has sat in the antechamber for eight years. Again and again, both countries must be put off by EU heads of state and government.
The reason for this is that the accession process is often exploited for domestic political purposes: sometimes it is not politically expedient to let the Western Balkan countries come closer to the community, as was the case after Brexit. Greece freezes the times due to the dispute over the name of the region of origin of Alexander the Great.
And now it is Bulgaria which intervenes and demands that the Macedonians recognize their language as a simple dialect of Bulgarian.
All attempts to forge a compromise at the last minute had failed. More recently, the Bulgarian government led by progressive Prime Minister Kiril Petkov was overthrown in the parliament in Sofia on Wednesday evening. Not only, but also because of the previously expressed intention to offer a helping hand for a solution to the dispute in North Macedonia.
Albanian Prime Minister Edi Rama did not hold back with clear words: "What a shame for Europe," Rama said on the sidelines of the summit and added frustrated:
"Allow me to express my deep regret: I am sorry for the EU".
You have to imagine this: with Bulgaria, a NATO country is holding two other NATO countries hostage (Albania and North Macedonia) and the remaining 26 EU states are just standing by. crusaders in their "helplessness", according to Rama. After the pandemic, even the bloody war in Ukraine could not have brought Europeans to unity.
His North Macedonian counterpart, Dimitar Kovacevski, said the same thing in principle, but with a little more diplomacy: "What is happening here is a serious problem and a major loss of credibility for the European Union".
Nice place nice people nice words nice pictures and imagine how much nicer it could be if nice promises were followed by nice delivery. . . But we Albanians are not so nice as giving up nicely! So we will continue and work even harder to make Albania a good EU member😀🇦🇱 pic.twitter.com/j057Ywf2tY

— Edi Rama (@ediramaal) June 23, 2022
Balkan states feel bitterly neglected
In fact, the heads of state and government of the EU must be blamed for having failed in their second geopolitical project in the Western Balkans, alongside Ukraine. And they have been doing it for years: not only are they failing to open the overdue accession negotiations with Albania and North Macedonia. Kosovo is also waiting for the long-promised visa freedom, for which Pristina has long met all the criteria. Bosnia and Herzegovina, which faces Russian attempts at destabilization, does not even have candidate status.
Even if nobody wants to say it publicly, the feeling in the Balkans of being neglected by the EU while Ukraine enjoys preferential treatment is clearly palpable. In any case, Edi Rama warned Ukrainians not to "have too many illusions".
It is far from true that there are no problems in the Western Balkans which would hamper enlargement. Serbia, for example, which has been negotiating membership with Brussels since 2014, has taken significant steps backwards on the rule of law and media freedom in recent years under President Alexander Vucic. Moreover, Vucic's shuttle diplomacy between Moscow and the EU and the failure to adopt sanctions against Russia are causing a lot of resentment among EU states.
For his part, Vucic is not particularly impressed by the critics. Asked about the slowness of the accession process and the rapid progress of Ukraine, he simply replied to journalists in Brussels on Thursday: "We respect each other more than the others".