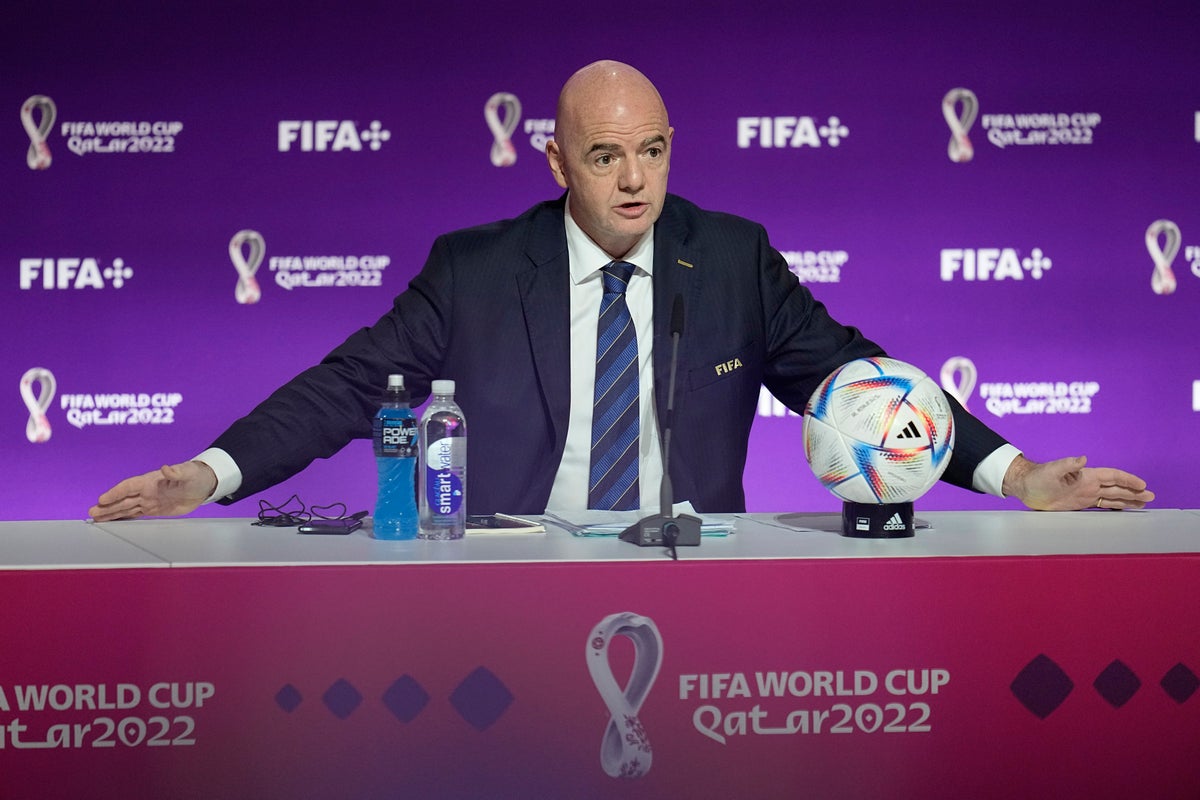 Fifa president Gianni Infantino claimed "today I feel gay" as he berated Western media for giving "moral lessons" about Qatar's controversial World Cup.
In a bizarre hour-long monologue, Infantino slammed World Cup critics for their hypocrisy, claiming that "nobody cares about people with disabilities" and compared his own childhood experience of being bullied to the suffering of workers and others at the hands of the Qatari regime.
Qatar has been widely criticized for exploiting countless thousands of migrant workers, mostly lured from impoverished parts of South Asia, to build the stadiums and infrastructure to host the World Cup. Among a slew of human rights violations, such as brutal working conditions, wage theft and illegal recruitment costs, several thousand worker deaths over the past decade remain unexplained and the emirate state has shown little urgency on the matter.
In addition, Qatar's eligibility to host the tournament has been questioned as the conservative Islamic nation bans homosexuality between men, and LGBTQ+ fan groups have warned they would not feel safe in the country.
Ahead of Sunday's opening game of the tournament, Infantino – who was unopposed this week as chairman of football's governing body – made an extraordinary attack on that criticism, defying FIFA's choice of Qatar as World Cup host. doubled.
Infantino said: "We have learned a lot of lessons from some Europeans, from the Western world. I think for what we Europeans have done in the past 3000 years, we should apologize for the next 3000 years before we start teaching people moral lessons."
Infantino then seemed to confuse his own life experience with the suffering experienced by many workers and other groups in Qatar.
He said: "Today I feel Qatari. Today I feel Arab. Today I feel African. Today I feel gay. Today I feel handicapped. Today I feel (like) a migrant worker.
"Of course I'm not Qatari, I'm not Arab, I'm not African, I'm not gay, I'm not disabled. But I'm looking forward to it, because I know what it means to be discriminated against, to be bullied, as a foreigner in a foreign country. I was bullied as a child – because I had red hair and freckles, and I was Italian, imagine.
"Then what do you do? You try to get involved, make friends. Don't start accusing, fighting, insulting, you start engaging. And this is what we should be doing."
Infantino defended Qatar's treatment of migrant workers, pointing out that they earn more from being exploited in the Middle East than at home in countries such as India, Bangladesh and Nepal.
He also highlighted the recent labor reforms in Qatar. This included the abolition of the Kafala system that stifled workers' rights, but human rights groups say these issues remain despite new legislation.
Speaking of LGBTQ+ groups' concerns about their safety in the country, Infantino said: "I can confirm that everyone is welcome. If you hear someone saying the opposite here or there, that is not the opinion of the country, it is certainly not the opinion of FIFA."
He said Qatar and capital Doha will be ready to host the "best World Cup ever".