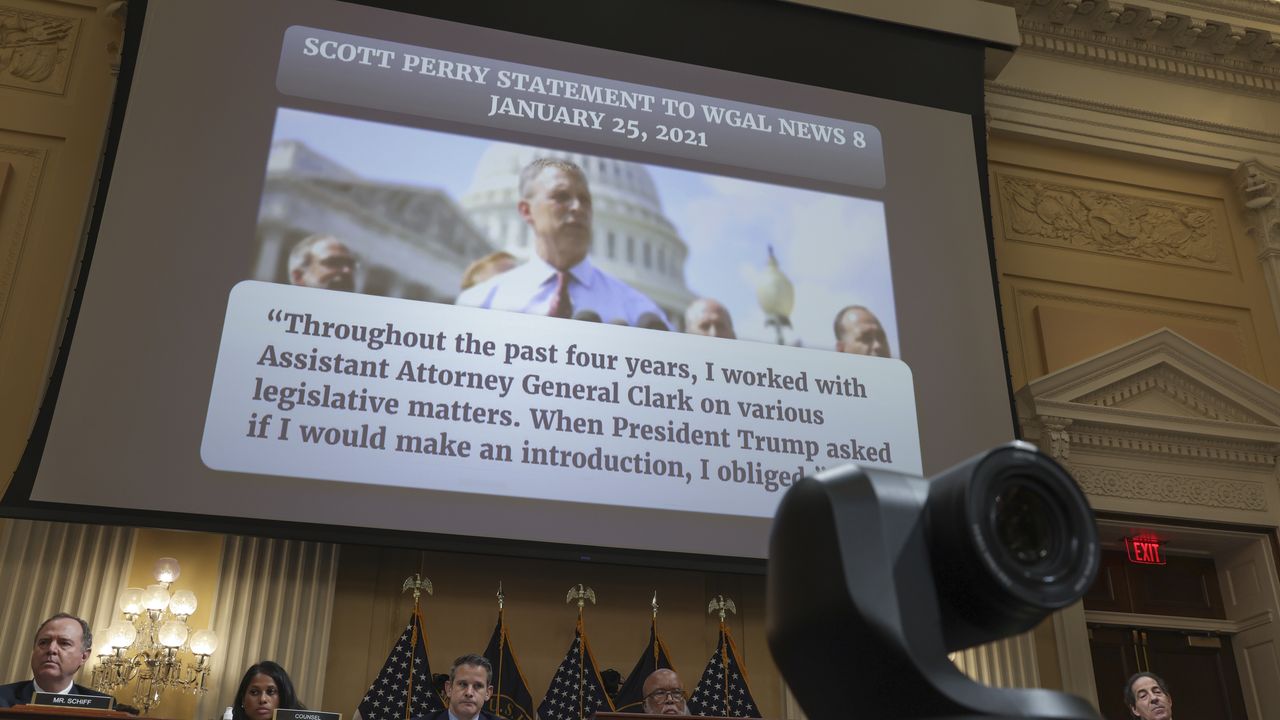 Former Trump White House aides testified before the Jan. 6 select committee that six House Republicans have asked for a presidential pardon in the wake of the Capitol riot.
Why is this important: The testimony was released at the end of a hearing that included new details about lawmakers' involvement in former President Trump's efforts to pressure the Justice Department to investigate his voter fraud allegations.
Rep. Scott Perry (R-Pa.) in particular, was a champion of installing DOJ official Jeffrey Clark, a staunch supporter of Trump's claims, as acting attorney general.
Driving the news: According to aides who testified, the following members asked for forgiveness:
Rep. Scott Perry (R-Pa.)
Representative Matt Gaetz (R-Fla.)
Rep. Mo Brooks (R-Ala.)
Rep. Louie Gohmert (R-Texas)
Rep. Andy Biggs (R-Arizona)
Rep. Marjorie Taylor Greene (R-Ga.)
Details: According to Rep. Adam Kinzinger (R-Ill.), Brooks sent an email to the White House asking for "blanket (all purpose) pardons" for himself, Gaetz and the 147 Republican House members and senators who voted against voter certification in Arizona and Pennsylvania.
Cassidy Hutchinson, who served as an assistant to White House team leader Mark Meadows, testified before the panel that she personally heard from Biggs and Gohmert.
Hutchinson also said she heard Greene had contacted the White House attorney's office to seek a pardon. She said Rep. Jim Jordan (R-Ohio) "talked about…pardons but he never asked me for one."
John McEntee, the former director of the White House presidential personnel office, said Trump "has alluded to a blanket pardon" for "everyone involved."
What they say : "The general tone was, 'We could be sued because we were defending the president's positions on these things,'" former White House attorney Eric Herschmann said in closed-door testimony.
"The only reason I know to ask for a pardon is because you think you've committed a crime," said Kinzinger, who conducted the hearing.
The other side: "At no time did I speak to Miss Hutchinson, a White House planner, or any White House staff member about a pardon for myself or any other member of Congress – that does not happen. is ever produced," Perry told TUSEN in a statement.
TUSEN has reached out to spokespersons for other members for comment.
Gohmert said in a statement that he "asked for clemency for the brave American service members and military contractors who have been ensnared by the justice system due to superiors doing politics, as well as a civilian leader who has also been wronged by a despicable injustice".
"These requests were all well before January 6 and had nothing to do with him," he continued.
"I had and have nothing to seek a pardon for and my requests were directed at others not associated with the government in Washington, DC. Any assertion to the contrary is unequivocally and maliciously false," Gohmert added. "Any committee member or witness involved should be ashamed to perpetuate such a lie, but it would take a conscience to feel such shame."
Editor's Note: This story has been corrected to show that Perry championed the installation of DOJ official Jeffrey Clark, not Jeffrey Rosen, as acting Attorney General.
More TUSEN:
.