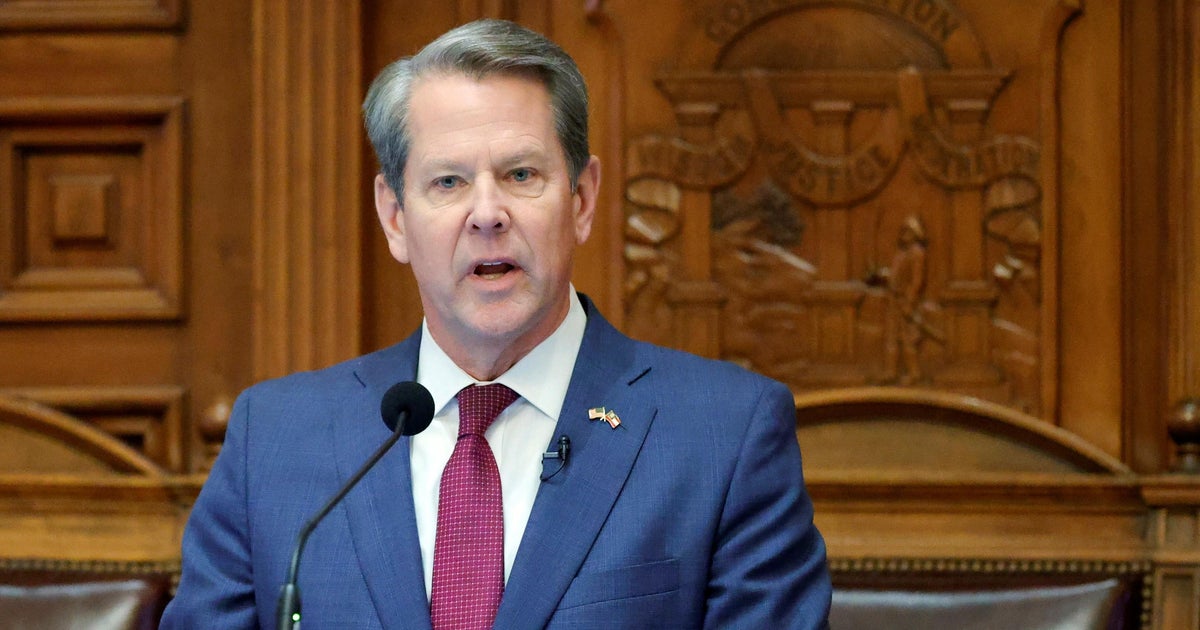 ATLANTA (TUSEN) — Georgia Governor Brian Kemp highlighted efforts to fight crime in his State of the State address Wednesday, saying he would support with legislation what had been a major theme of his re-election campaign.
The Republican, triumphantly sworn in for a second term, devoted a significant portion of his annual address to lawmakers to public safety, promising to make it harder for some criminals to get bail, increased penalties for recruiting children into gangs, and increased sentences report human trafficking for non-payment.
"We will also continue to remove violent offenders from our communities," Kemp said. "For far too many Georgians, the safety of their families and homes is endangered by the unchecked crimes of street gangs."
The governor, who handily defeated Democrat Stacey Abrams in the November election, has sought to promote his vision of a conservative government around the world. In Wednesday's speech, he proclaimed a "new era" for Georgia, praising its stewardship of the economy and its plans to improve education, housing and healthcare, demanding a mandate from voters.
"The campaigns have all been done and people have spoken," said Kemp. "They've given us our marching orders, and it's time to get back to work. So for the Georgians of today and tomorrow, let's get it done."
Having already delivered an inaugural address and released budget plans, Kemp devoted his speech on Wednesday to urging lawmakers to act on priorities he previously announced.
Kemp's crime remarks came days after an environmentalist was killed and a police officer injured in a confrontation over the construction of a police training center in Atlanta. A Saturday protest over the shooting in downtown Atlanta turned violent, with masked activists setting fire to a police car and destroying buildings.
Kemp has promised swift punishment for those who took part in the violence, holding it out on Wednesday as an example of why police need public support.
"That's just the latest example of why we're always behind the blue here in Georgia," Kemp said.
The governor also reiterated his promises in his inaugural address and recently released budget to provide $2,000 in pay increases for teachers, college employees and public school teachers, and to provide full education to all recipients of a HOPE Scholarship.
Kemp described his new proposals as building on his first term performance. He noted that he persuaded lawmakers to give $5,000 pay raises to state officials and teachers during his first term, backed by strong state revenues. Officials expect another $2 billion surplus this year.
"In total, we've given hard-working educators a $7,000 pay raise in just five years," said Kemp. "No other General Assembly or governor in the history of the state will have raised teacher salaries this high so quickly."
Starting next fall, Kemp also wants to end the two-tier system of HOPE scholarships, which pay full tuition for the first time since 2011 for every high school graduate with a B average. Now regular HOPE recipients get 90% of tuition. Kemp has said restoring full eligibility would cost $61 million more in lottery proceeds.
"We are once again fulfilling Governor Zell Miller's vision of returning HOPE Scholarship and Grant awards at 100% of tuition," said Kemp.
The governor made no mention of his plans to issue two rounds of one-time tax breaks using Georgia's billions in accumulated excess funds. Top Republican lawmakers have already said they plan to support another $1 billion in income tax cuts, which would set back the average taxpayer between $250 and $500. Legislative leaders also support Kemp's plan for a $1.1 billion reduction in property taxes for homeowners, which Kemp says would net the typical homeowner about $500.
.