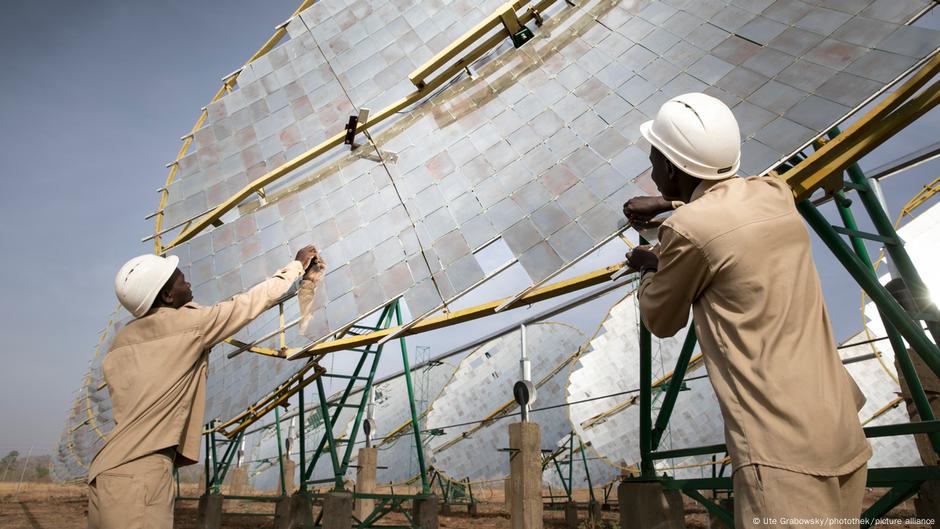 On Tuesday, German Development Cooperation Minister Svenja Schulze outlined the overarching vision of Germany's development policy for the African continent.
Berlin is committed to working with national governments and organizations to address challenges that could lead to mass migration, new conflicts and pandemics, and higher global carbon emissions.
Schulze said the 36-page document was the result of six months of joint consultation with European and African representatives from politics, business, civil society, academia and youth.
Sustainable jobs with fair pay
The development minister said that, with the continent's young, fast-growing population, the core of Germany's new strategy should be job creation.
Schulze hailed Africa as an emerging continent, rich in wind, solar and mineral resources, with a population set to grow to 2.5 billion by 2050, with just under half of Africans under the age of 20.
As such, she said, some 25 million jobs need to be created each year.
"They are jobs that make the difference between a lack of prospects, frustration and instability on the one hand and development, innovation and overcoming crises on the other," said the minister.
According to the strategy, social and environmental change is necessary to maintain livelihoods, achieve prosperity and promote social justice.
Economic sectors where Germany would work in development cooperation to create jobs would be in areas with fair wages that do not harm the environment or climate.
The focus is on expanding renewable energy sources, vaccine production, waste recycling, wastewater recycling, and water and sanitation.
'Respect and honesty'
Germany's development cooperation minister noted that many on the African continent did not have access to coronavirus vaccines at the height of the global pandemic.
While Schulze said she couldn't promise it wouldn't be Western developed countries' impulse to hoard vaccines next time, she said Germany could aim to ensure African countries have their own access to vaccines. in the middle of a future pandemic.
The African Union has set a target that by 2040, 60% of all needed vaccines will be produced on the continent itself.
Schulze also argued that treating Africa with "respect and fairness" was not only morally correct, but also in the self-interest of Germany and other European nations.
"How we treat the African continent today will determine how it will treat us tomorrow," Schulze said.
Skepticism about details
Germany's conservative CDU/CSU political opposition bloc criticized the overall strategy, saying it focused on buzzwords rather than concrete solutions for job creation.
There were similar objections from the other side of the political spectrum, from the far-left opposition party Die Linke.
The response from religious aid organizations Misereor and Bread for the World was also lukewarm.
While Bread for the World welcomed the ministry's efforts to redefine its priorities on the African continent, it said there was a lack of a clear focus on pressing issues such as the fight against hunger.
"There are no statements in the strategy paper that would hold Germany and the EU responsible for measures to combat hunger," complained the organization's president, Pirmin Spiegel.
rc/nm (dpa, KNA, epd)
While you're here: Every Tuesday, TUSEN editors round up what's happening in German politics and society. You can sign up for the Berlin Briefing weekly email newsletter here.