Fred Ogolla, a petitioner from Siaya County, went to parliament on Thursday, Nov. 25, to request amendments to the constitution.
Ogolla on Thursday, November 24, pushed for the establishment of the office of the Official Leader of the Opposition and Super Senator among his many changes.
He also petitioned MPs to amend Article 137 of the Constitution, which sets out qualifications and disqualifications for presidential elections.
Lawmakers were urged to prohibit a vice president who has served two terms from running for president and governors from competing as senators after they have served their term.
Azimio party leader Raila Odinga and Kalonzo Musyoka at the funeral of Mama Philomena Barasa in Kakamega County on Monday, October 31, 2022.
Fernandes Barasa
Lawyer Wahome Gikonyo, talking to KTN newsargued, however, that the petition lacks substance and merit,
"Some of these amendments seeking to change the Constitution lack merit. You cannot prevent a governor who has served two terms from running for another office because it is his constitutional right.
"To make any petition worth considering, one should keep in mind Chapter 16 of the Constitution, that is Articles 255, 256 and 257 because they deal with the amendment of the 2010 Constitution," he opined.
Ogolla's petition came in the wake of another similar prayer for the induction of the office of prime minister, deputy prime minister and official leader of the opposition, submitted to the National Assembly on Wednesday, November 23.
Victor Okul's petition proposes amending the constitution to introduce the offices on the grounds that the current "winner takes all" system is regressive.
"The petitioner is convinced that what he calls the 'Winner take it all' system is regressive, especially in light of the fact that the offices of Prime Minister, Deputy Prime Minister and Leader of the Opposition were part of the changes proposed by several TUSEN to the draft Constitution', a partially read statement from the President's office.
Okul claimed that the current system is responsible for the country's divisive presidential elections since the promulgation of the 2010 constitution.
Interestingly, the proposed amendments submitted were part of the recommendations in the overturned Building Bridges Initiative (BBI) Constitution (Amendment) Bill, 2020, a product of the political truce between retired President Uhuru Kenyatta and opposition leader Raila Odinga.
The Supreme Court ruled on March 31, 2022 that BBI was unconstitutional. In their ruling, five of the seven Supreme Court justices stated that the president could not lead a popular initiative to change the constitution.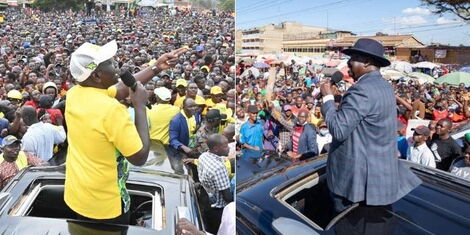 President William Ruto (left) and ODM leader Raila Odinga (right) at rallies in West Pokot and Kajiado respectively in January 2022
File
They also noted that a popular initiative is reserved for the common citizen, popularly known as 'Wanjiku'.
It remains to be seen whether this set of proposed amendments will see the light of day in Parliament. Kenya Kwanza, the majority party, campaigned against constitutional changes and categorically prioritized economic recovery.