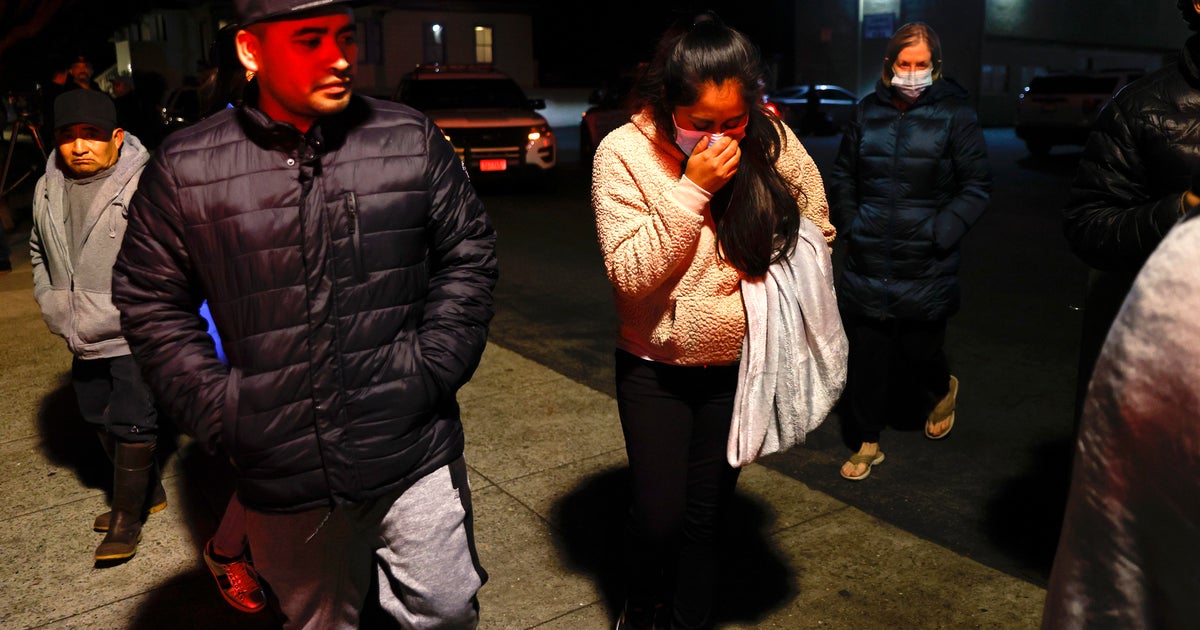 HALF MOON BAY – As a makeshift memorial of flowers and candles grew in Half Moon Bay Wednesday morning, new chilling details emerged about the murder of seven farm workers who were fatally shot while working on local farms by a colleague.
Chunli Zhao, a 66-year-old resident of Half Moon Bay, was set to formally indict Wednesday on seven counts of first-degree murder with a gun and one attempted murder in a San Mateo County courtroom.
At a press conference Tuesday afternoon, Congresswoman Anna Eshoo joined Governor Gavin Newsom in revealing some stunning details of the shooting.
"They were killed on purpose, on purpose, execution style," Eshoo told reporters. "This community, California and the country are reeling from it."
Federico Nunez, whose ex-wife, Juana, works at Concord Farms, told KPIX she escaped the shooting unharmed.
Through an interpreter, Nunez said Juana was approached by a man she recognized as a former colleague as the workers were finishing their day.
He left and returned minutes later with a gun, killing her colleagues. She told Nunez that she thought she was unharmed because she had never had any problems with the man.
At a news conference Tuesday, San Mateo County Sheriff Christina Corpus said the only known connection between the alleged shooter and his victims is that "they may have been co-workers."
"All the evidence we have points to this being workplace violence," Corpus told reporters. "The Mountain Mushroom Farm, the first location, was where the suspect worked."
"We remain shocked and saddened by the senseless loss of four of our friends and longtime employees, and we pray for the team member who remains in critical condition," California Terra Garden said in a statement.
Dave Oates, a California Terra Garden spokesperson, confirmed to KPIX on Tuesday that Zhao once lived at the Mountain Mushroom Farm site for seven years and that California Terra Garden took over operations in March 2022.
Oates said there were three mobile homes and six employee trailers on the property. Many of the people who worked in the mushroom farms lived on site with their families in trailers and some children reportedly witnessed the violence. Those families have been temporarily relocated to area motels to join other farm worker families displaced by recent flooding in the area.
Corpus said the coroner's office faced the difficult challenge of notifying the families of the seven workers who were killed because many were migrants.
MASS SHOOTING IN CALIFORNIA
The incident began on Monday when San Mateo County Sheriff's deputies were sent to the Mountain Mushroom Farm on San Mateo Road near Highway 1 in unincorporated San Mateo County at 2:22 p.m. on a report of a multi-person shooting. victims.
Upon arrival, officers found four victims who had died of gunshot wounds. A fifth victim, also with gunshot wounds, was transported to Stanford Medical Center with life-threatening injuries.
Deputies then rushed to the second shooting scene — this one at another mushroom farm at 2125 Cabrillo Highway S./Highway 1. Three other dead victims were found there a short time later, the sheriff's office said.
During the police response to the shooting, the sheriff's office said there would be a media staging at a substation at 537 Kelly Ave. At around 4:40 p.m., a man in a white baseball cap was seen being led away from the substation. in handcuffs.
According to the sheriff's office, Zhao himself drove to the substation between the two companies and surrendered to deputies. The weapon – a semi-automatic pistol – used in the shootings was found in Zhao's vehicle.
"It was a legally purchased firearm and owned property," San Mateo Sheriff's Office Captain Eamonn Allen told reporters.
A family reunification center has been set up at IDES Hall at 735 Main St. in Half Moon Bay. The hall also houses families living in residences that are too close to the crime scene to be able to return home.
"These kinds of shootings are horrific," Corpus said at a news conference Monday night. "It's a tragedy we hear about way too often, but today it hits here in San Mateo County.
.