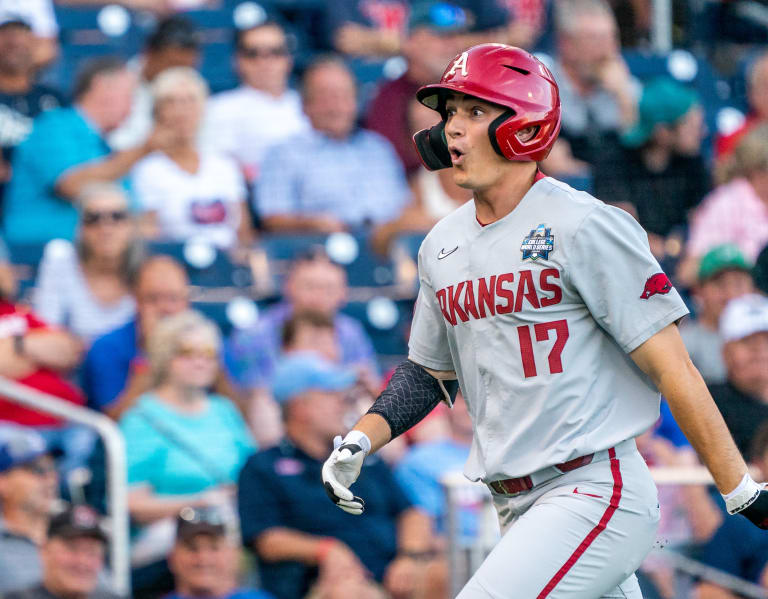 Arkansas slugger Brady Slavens is back in Fayetteville for his last season of eligibility, and he's ready to show off his talent once again in full health.
Following his 2022 campaign, Slavens had surgery to repair ulnar nerve instability in his elbow. The injury limited his ability to play defensively and likely also affected his entry into the 2022 MLB Draft.
Slavens played in rightfield and first base last year, but he spent most of his time as the team's designated hitter. He hit .255/.332/.523, tied a team-high 16 home runs and added 58 RBIs.
Those numbers look good, but Slavens sometimes had a hard time last year. He posted a team-high 66 strikeouts and his on-base percentage was the worst of the regular nine starters. Head coach Dave Van Horn said ahead of the fall season that Slavens put a lot of pressure on himself last year.
"We talked about playing the game and liking the game and playing with a smile on your face, which is what we want from Brady," Van Horn said on September 7. "If we get that from Brady, I think he's going to have a great year. I think Brady put a lot of pressure on himself last year, and we don't want him to feel that pressure. We don't want him to that's how he plays. We want him to play because he likes playing baseball."
After being called up again, Slavens had to make a decision about his future. He drove to Fayetteville to meet Van Horn and hit coach Nate Thompson, and the bottom line seemed to be that Arkansas wanted him and really needed him.
Slavens is one of two starters from last year's lineup to return, along with Peyton Stovall. He is just two years off Arkansas' leading starters in batting average (.284), slugging percentage (.560) and RBIs (63) through the 2021 season.
With two years of SEC baseball under his belt and a healed elbow, Slavens is looking good as he starts training later this week.
"We are delighted that Brady is back," Van Horn said on Friday. "I think he just has a different mindset. I think he's in really good shape. Arm is fine. He throws 100%. Probably better than ever honestly. He's got the ball really good so far incorporated into our exercises."
Van Horn also confirmed that Slavens will be Arkansas' first baseman for the upcoming season.
During Arkansas's College World Series run last summer, Slavens showed his strength on the big stage with a 436-foot homer to dead center. The hit was longer than any other home run at the College World Series since the event moved to Charles Schwab Field/TD Ameritrade Park in 2011.
It seems like Slavens hasn't missed a beat, he's just not in Omaha anymore.
"We did some live at bats outside of pitching," Van Horn said. "He hit one yesterday – it was in and it's all on TrackMan, but he hit an opposite field ball about 120 yards, which was good to watch. It's not just about home runs, of course. For him to really get out on his first few live at bats in a while he looked very comfortable.
Not only is Slavens looking to have a strong final year in Fayetteville, but he is also taking on a leadership role within the team. Although not chosen as one of the three team captains, he does his best to prepare the boys.
"Brady and I were trying to think of ways, like how we can get our teammates ready for SEC competition and not get along so fast the first few weekends, so we can get off to a good start," outfielder Jace Bohrofen said. "It will be a challenge for sure. With all the good teams around the conference, it will be a lot of fun to compete against them."
The Diamond Hogs will ramp up practice Friday ahead of the start of their season next month at the College Baseball Showdown at Globe Life Field in Arlington, Texas. Arkansas' first game is on Friday, February 17 at 7:00 PM CT against the Texas Longhorns.