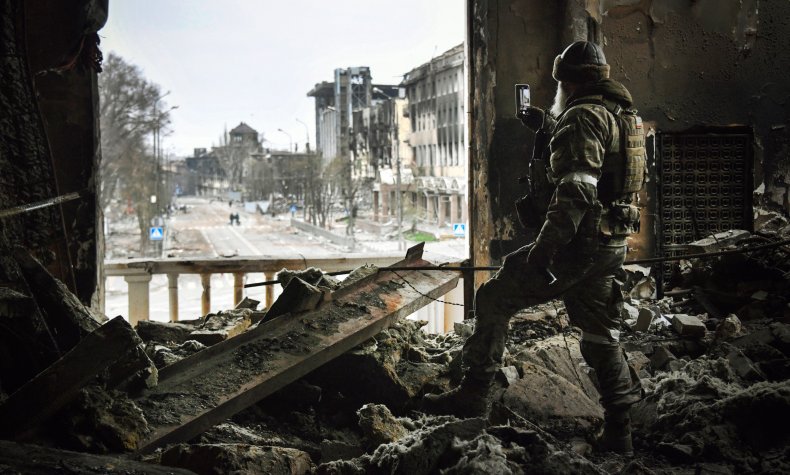 Polish Ambassador to Ukraine Bartosz Cichocki said Kiev's armed forces could have avoided the "tragedy" of the Russian siege of Mariupol had they received the High Mobility Artillery Rocket System (HIMARS) earlier.
The delivery of HIMARS to Ukraine from the United States has been described by military analysts as a "game-changer" for the country as it defends itself against Moscow's unprovoked aggression. The siege of Mariupol, which resulted in numerous civilian deaths and alleged war crimes committed by Russian forces, lasted from the start of the war on February 24 until May 20, when the remaining Ukrainian troops in the city surrendered. Meanwhile, the first shipment of HIMARS did not arrive until the end of June.
"We know very well that if the HIMARS had reached Ukraine earlier, the tragedy of Mariupol might not have happened. The Ukrainians were just 100 kilometers from this city, they were separated by a flat area, they were unable to reach the front lines. moved and were forced to stand idly by the tragedy of their comrades," Cichocki said in an interview with Polska Times published Friday.
"We have to ask ourselves: are we going to see Ukraine bleed? finally win and then recover for decades?" he asked. "Which will also lead to a prolonged state of instability along our borders. Or are we going to put in even more effort now and accelerate this victory and thereby shorten the recovery period?"
The Polish diplomat said he saw no way Ukraine would lose as it continues to fight back against Russia, adding that Kiev's armed forces would falter only if Western countries gave up their support for the Eastern European nation in "an incomprehensible turn". giving up.
During the nearly three-month siege, it is estimated that thousands of civilians were buried in mass graves by Russian troops in Mariupol. The maternity ward of a hospital and a theater housing hundreds of civilians in the city were also bombed by Moscow troops. The local government said at least 90 percent of the city's buildings had been damaged by the attack.
"The attack by Russian troops on Mariupol was based on attacks and tactics that resulted in indiscriminate and disproportionate suffering of civilians and loss of life," Human Rights Watch said in a statement in mid-June.
"It is imperative that Russian troops be held accountable for unlawful attacks and other serious violations of international humanitarian law in the city. Documenting all such cases will take time, given the sheer number of strikes that took place," the organization added. up.
The US, Poland and other NATO allies have provided Ukraine with billions of dollars in military and humanitarian aid since the start of the conflict, including HIMARS. Kiev and Western military officials have hailed the missile systems as a reinforcement of Ukrainian forces. Ukraine had already repulsed Russia's first invasion, forcing Moscow to focus its efforts on the country's southeastern Donbas region. Russian President Vladimir Putin and other Kremlin officials reportedly believed they would quickly take control of most of Ukraine and overthrow the government when they launched the invasion more than five months ago.
Kremlin leaders continue to try to justify the attack on Ukraine by bizarrely claiming that the country is ruled by Nazis. In reality, Ukrainian President Volodymyr Zelensky is Jewish and had relatives who died during the Holocaust genocide continued by the German Nazis in World War II. When Zelensky was elected with nearly three quarters of the vote in 2019, the Ukrainian prime minister was also Jewish.
News week contacted the Russian Foreign Ministry for comment.