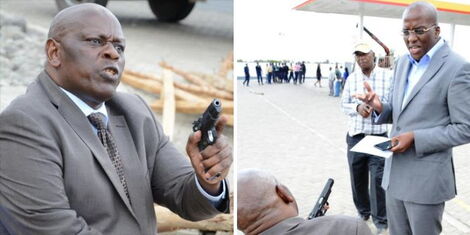 Nairobi gubernatorial candidate on a Jubilee ticket, Polycarp Igathe on Wednesday June 22 recounted a time when a senator opened fire on him
Speaking at a Kenya Private Sector Alliance (KEPSA) meeting in Nairobi, Igathe recalled his altercation with Senator Appointee Paul Njoroge who fired his gun at the then business executive during an unrest in Naivasha.
The gubernatorial hopeful, who wanted to prove he was ready to take on cartels at City Hall, said the near-death experience happened while he was fighting cartels in the oil industry – using him more as an example of his commitment.
Former MP named Paul Njoroge points a gun at Polycarp Igathe in February 2017.
TUSEN.co.ke
"There's nothing so big in Nairobi that we haven't faced in the private sector. I was shot and stood and faced bullets. I had struggling to fight cartels in the oil industry," he said.
Igathe recalled how in February 2017, when he was managing director of a local oil trader, Njoroge shot him at point-blank range during an operation he was leading – the recapture of the petrol stations of the company in Naivasha.
The bullet missed the gubernatorial candidate by inches – but he continued to reinforce company policy.
During the incident, the former senator appointee mumbled a few words in Kikuyu "no one comes here" as the crowd, which had gathered to watch the scuffle, rush to safety.
Igathe said the company went to rename the gas station, which the ex-senator operated under the franchise, after failing to replenish fuel stock for more than two weeks.
"I had sent my workers to debrand because we don't allow the stations to dry up, and they called me to say they had met with some resistance and because he's an old person in society, I came to talk to him but what I was got shots and threats," Igathe said.
For his part, Njoroge claimed he had obtained a court order to stop the rebranding and had made arrangements to top up his storage. Igathe eventually dropped the charges against the senator.
Additionally, the gubernatorial candidate recounted that while working for another manufacturer, he led an operation to root out fake pens, a move that led to his appointment to the first anti-counterfeiting agency. County.
The former deputy governor felt his resignation should not be used to assess his leadership record.
He explained that his roles were to assist the governor and that things would be different in 2022 as he would be the county leader.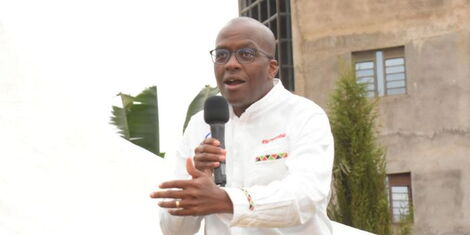 Nairobi gubernatorial candidate Polycarp Igathe during a meeting with Azimio supporters in Nairobi on June 22, 2022.
Polycarp Igathe
death gun Fire struggle scam