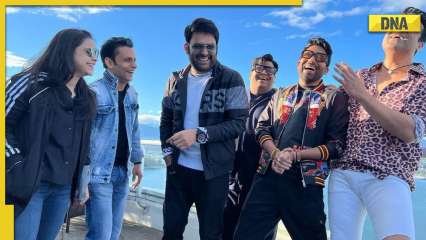 Kapil Sharma has taken his troupe on an international tour, and they're ready to sow laughter in Vancouver and across Canada. The comedian show, Kapil Sharma Live consists of his core team which includes Sumona Chakraborty, Kiku Sharda, Rajiv Thakur, Krushna Abhishek and Chandan Prabhakar. Before making the house laugh, Kapil and his team are enjoying Vancouver locations, and Kapil shared some funny moments with his team.
Sharma posted three photos from his international tour diary, and we can see him and his team joking around. The lead comedian looked dapper in cool casual outfits, and credit for the style goes to his wife Ginni Chatrath. Kapil posted these photos with the caption that reads, "Crew that laughs together stays together."
Here is the post



Well, as soon as the comedian posted the photos, many of his fans wished him well with the tour. However, a certain part of Internet users advised him not to get "carried away" and to avoid getting into an unpleasant controversy. These users reminded him of his last international tour in Australia, after which he and Sunil Grover had a spinoff. During his last tour, it was reported that Sharma behaved badly with his team and especially with Sunil. One user wrote, "Bhai vapas aao to dhyaan se aaana pichli baar ki trh chappal mt bajana ek dusre me." Another user wrote, "I miss you Sunil." One user claimed, "Haste raho haste raho baki aate time kisise jhagada karke mat aana." One netizen wrote, "Because this time jhaaj ch Daaru na pevee."
For the uninitiated, in 2017 actor Sunil Grover, who played Dr. Mashoor Gulati on The Kapil Sharma Show, left the show after a rather nasty fallout with the show's host, Kapil Sharma. In March 2017, it was reported that there had been an altercation between Kapil and Sunil. Kapil allegedly verbally abused and assaulted Sunil as they returned from Australia where they performed on stage. After this incident, Sunil Grover left the show and has not returned since. Kapil and his team will perform in Vancouver on July 25, then they will perform in Canada on July 3.
.