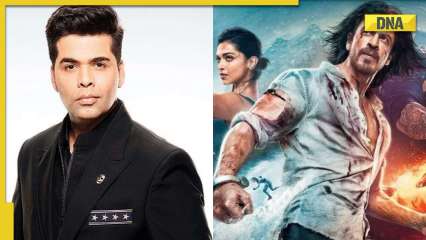 Shah Rukh Khan, Deepika Padukone and John Abraham star Pathaan have received unanimous positive response from the audience. SRK fans hail Siddharth Anand's direction as the perfect comeback film, which fell short of expectations.
Pathaan has certainly brought hope and relief to Bollywood, and even Khan's friend, producer Karan Johar, has celebrated Pathaan Day. Johar watched Pathaan on the first day and he left his review in a lengthy post. Sharing the movie poster, Karan admitted, "I can't remember the last time I had such a good time at the cinema! This is just the biggest blockbuster!!! Mega is the word!"
Here's the message



Karan went crazy over the deadly trio and praised them. "The charm, charisma, superstardom, desirability and sheer brilliance of @iamsrk… the hottest, most beautiful and sensationally beautiful cop you'll ever find @deepikapadukone the sexiest and most desirable villain @thejohnabraham." Karan also applauded director Siddharth's directorial chops, "Brilliantly directed and conceptualized by SID ANAND! He knows how to edit a film as few can." Praising his producer friend Aditya Chopra, Karan added, "I'm so proud of my BFF, the invisible ADITYA CHOPRA!!! You may never see him! But his vision and brilliance is insurmountable!"
READ: Salman Khan, Shah Rukh Khan sharing screen space in Pathaan makes fans go crazy in theatres: 'Tiger owns Pathaan'
Pathaan marks the return of SRK to the silver screen after four years. However, Johar stated that King Khan never left, he just waited for the right time to reclaim his throne. Karan even took a prank on the boycott Bollywood gang trying to sabotage the movie. Johar stated that when Hindi films come up with something big, it overshadows everything else. "And I love you BOLLYWOOD! You may have been slandered and 'boycotted', but no one can deny that when you come into your own, no one can stand in your way! PATHAN MUBARAK to all!" Eventually, Karan tried to get it under control, but gave away a spoiler by stating that SRK and Salman's action scene is his favorite moment from the movie. He clapped at that action-packed scene and enjoyed the movie like a movie buff. Pathaan was released in cinemas on Thursday, January 25 and is currently playing in cinemas near you.
.