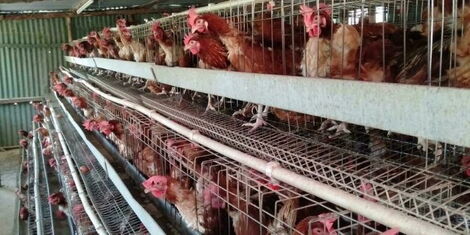 Kenya and Uganda are heading for another diplomatic stalemate after a letter drafted by Ugandan farmers over the new Nairobi policies surfaced.
Speaking in an interview, Poultry Association of Uganda (PAU) President Aga Sekalala Junior protested that Kenya had imposed policies that hurt their businesses.
Poultry farmers have been rocked by a new tax imposed on Ugandan egg imports by Kenyan authorities.
Poultry in battery cages in Kenya
RFI
In a letter to the Uganda Manufacturers Association (UMA), the farmers urged the government to engage the Kenyan government on the issue.
President Uhuru Kenyatta's government has imposed a 25% excise duty on imported eggs, in addition to delaying the approval of import permits, which Ugandan farmers are unhappy about.
"Kenya directly discourages trade with Uganda by imposing this duty. For this reason, the price of eggs has also stagnated and most of our farmers are struggling to survive in the market," reads PAU's letter to UMA.
Sekalala Junior argued that the levy was a barrier that goes against East African Community protocols.
"The EAC protocols say there should be no tax. It's inappropriate and we're not happy about it. The market is supposed to be open," he said.
He further accused Kenya of indiscriminately creating new policies "according to their mood of the season".
Uganda National Cross Border Traders Chairman Godfrey Oundo Ogwabe has spoken out on the issue and told Ugandan press that the egg policy has continued despite a court ruling.
Ogwabe considered the levy to be bad policy and in violation of the East African Community policy of free movement of goods and services from member states.
The Ugandan Ministry of Commerce's Foreign Trade Commissioner, Emmanuel Mutahunga, said they had not received any official communication from Kenya and as far as they are concerned, nothing has changed since the December 2021 agreement.
Ugandan President Yoweri Museveni and his Kenyan counterpart Uhuru Kenyatta
Case
"Normally, non-tariff barriers are investigated following complaints about whether this is actually happening," he said, urging traders to share documents showing they are being charged. this tax.
"If they (traders) pay the tax, they have to bring the documents. It will be taken from there. Otherwise, it remains hearsay," Mutahunga said.