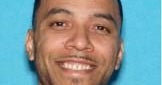 The suspect who was caught on camera abusing a dog in a social media video has turned himself in to the Anaheim Police Department.
Albert Frank Abad Jr. surrendered to Anaheim police at 1:30 a.m. Thursday, after an arrest warrant was issued on Wednesday.
The video of him beating and assaulting a dog in the hallway of an Anaheim apartment building went viral on social media, and police have been looking for him ever since.
The dog that Abad abused is an all black gold doodle.
Abad, who is 33 years old, was arrested on suspicion of animal cruelty.
He dropped the dog, a black gold doodle named Steeler, at a local vet before turning himself in to the police. Orange County Animal Care officials are examining the dog to determine his condition.
In response to the arrest, Orange County District Attorney Todd Spitzer released a statement, which read in part:
"The violence inflicted on a defenseless animal is disgusting. Dogs love unconditionally and that love was not rewarded with love, but with violence. This behavior is not only abusive, it is criminal. … As a result of excellent police work, will The Orange County District Attorney's Office is prosecuting this abuser to the fullest extent of the law and we will send a strong message that animal cruelty will not be tolerated."