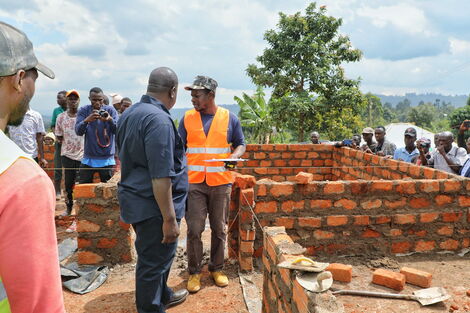 Interior Minister Fred Matiang'i builds a house for a widow who was unable to bury her husband for six years after a land struggle.
Matiang'i came to the widow's aid after her husband, Joseph Abuga Oribo, was buried in Kisii district last week.
When completed, the permanent brick house in the village of Nyamache will house Mzee Oribo's widow and her children.
Interior Minister Fred Matiang'i inspects a house being built for Mzee Joseph Abuga Oribo in Kisii County.
Twitter
Fred Matiang'i
The CS has already visited the site to inspect the works and offer their condolences to the family. He was accompanied by his compatriot, Farida Karoney.
During the visit, Oribo's widow expressed her gratitude to the CS for coming to her aid and noted that the family was closed after her husband's funeral.
She added that the house would go a long way in providing shelter for her, the children and grandchildren.
At the funeral, Matiang'i attributed the end of the country's stalemate to Karoney, who he said took over after being approached to resolve the dispute.
He revealed that he learned about the family's woes through… Egesa FM, a Gusii radio station run by Royal Media Services (RMS) Limited.
"I would like to thank the Land CS because when we got wind of the matter in the media and approached her, she took the matter personally and the matter was resolved in no time.
"I am grateful because you could have decided to assign the case to another officer and the case could have been extended," he said.
Karoney, on the other hand, apologized on behalf of the government and stated that the matter should have been resolved years ago.
"I want to ask for forgiveness on behalf of the government. It is shameful that a family has had to endure all these years," said Karoney.
Pictures of a house being built by CS Fred Matiang'i for a widow in Kisii.
COURTESY
murder