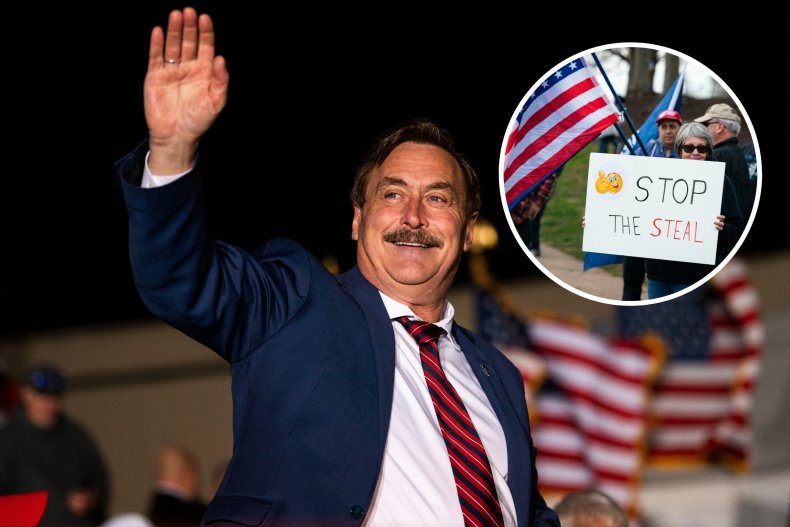 Mike Lindell, CEO of MyPillow, says he could head a new "election committee" for the Republican National Committee (RNC) if his bid to become the RNC's new chairman falls short this week.
Lindell said News week on Wednesday that a Twitter rumor claiming he was teaming up with fellow RNC chairman candidate Harmeet Dhillon to form a unified ticket against Ronna McDaniel, the incumbent chairman, was "not true at all". The three candidates are currently attending the RNC Winter Meeting in California, where committee members will elect a new chairman on Friday.
While Lindell said he felt "really good" about his election chances, he added that he could still be offered an RNC job if he loses. Lindell said a spokesman for Dhillon told him during an informal debate Wednesday afternoon that he could be asked to head a new Republican Election Commission if Dhillon wins.
Lindell, a staunch supporter of false claims that the 2020 presidential election was "rigged" against former President Donald Trump and other election fraud conspiracy theories, said he agreed with the spokesman's alleged assessment that he would be "the best" person to conduct the presidential election. Commission.
"She said something like 'we'd love to work with Mike Lindell, put him in charge of the election platform' or whatever," Lindell said. "One of the things on their list… [is forming] an election committee or platform or director. And I think she said I would be the best for that job. I Agreed. I've been doing this for two years."
"I know Ronna McDaniel said something similar recently," he added. "She also said 'we need to unite…I would love it if I won to work with Mike Lindell.' She would also like to bring me in and let me help, with the expertise I have in these last two years of our electoral systems.
While Lindell did not commit to accepting an offer from Dhillon or McDaniel, he said he would accept the results of the election for RNC chairman and offer "100 percent" support to whoever ultimately wins.
He claimed that the election results would not be corrupted because "no machines" were involved and the 168 RNC members would vote by secret ballot.
"It's fair, and I think it's as fair as it gets," Lindell said. "It's also a confident vote, a secret vote… I really like the way this is set up."
Lindell said he spoke to "more than 65" RNC members on Tuesday night and that he "wouldn't bet any of them would vote for me because this is a private vote and they can vote freely and not have to worry" .
In becoming RNC chairman on Friday, Lindell said, he hopes to use his experience in business and marketing to rebrand the GOP as the party of "common sense."
"This is my wheelhouse," he said. "I'm a marketer, I'm a burner and I'm a messenger. And the RNC need to get their brand back, you know, educate the people there…I want to make it more like a commonsense party…I wants to unite the party from the grassroots all the way up."
The claim that Lindell and Dhillon would form a unified ticket began after former federal prosecutor and Twitter mainstay Ron Filipkowski tweeted a short video depicting the debate between Lindell and Dhillon's spokesperson on Wednesday.
The spokesman, who appeared to be talking about elections, said in the clip that with "Mike Lindell by her side", Dhillon would be able to "land this plane for our country right now". Filipkowski claimed the comment amounted to an announcement that Dhillon "will team up with Mike Lindell as a unified ticket against Ronna McDaniel."
News week has contacted Dhillon and the RNC for comment.