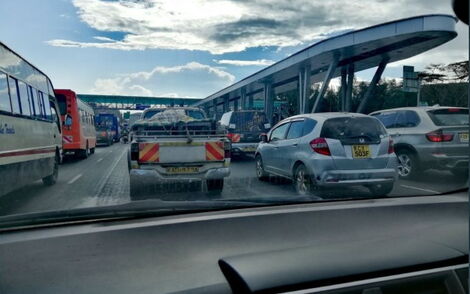 The Kenya National Highways Authority (Kenha) has advised motorists that a section of Lang'ata Road will experience traffic disruption in the coming weeks.
A statement from KeNHA on Saturday January 15 said traffic will be disrupted at the T-Mall roundabout.
This follows a planned road closure to pave the way for the erection of the T-Mall Flyover.
Huge traffic along Thika Road near Garden City on Tuesday November 16, 2021.
To file
In the statement, KeNHA explained that the road will be closed from Monday January 17 to Saturday January 22, 2022.
In a bid to facilitate travel, KeNHA further stated that the construction work is expected to take place at night between 9:00 p.m. and 5:00 a.m. during the period.
Motorists have also been warned that traffic bound for Nyayo – Langata Stadium will be diverted at Madaraka Roundabout via Ole Sangale Road to Raila Odinga Way (formerly Mbagathi Way) to T – Mall Roundabout towards Langata .
KeNHA advised road users to follow the proposed traffic management plan and cooperate with police and traffic officers on site.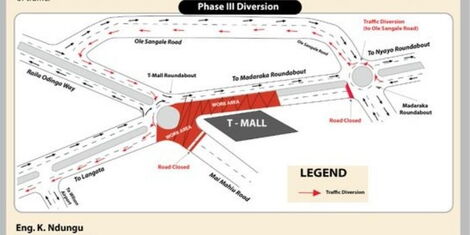 KeNHA illustrates how traffic will be diverted to the oncoming lane in the shared poster released on Saturday, January 15.
Courtesy of KeNHA
They were also urged to exercise caution and road courtesy while driving, in order to improve traffic management.
The road authority has shared a proposed management plan that would see traffic diverted into the oncoming lane.
On Friday, January 14, KeNHA announced areas that would experience traffic disruption due to ongoing construction on the Nairobi Expressway.
The authority warned commuters, motorists and other road users to be prepared for traffic jams and traffic jams.
One of the areas is General Motors (GM) which has recently faced traffic disruptions due to several detours created in the area. At present, the contractors are constructing a road that will connect the GM zone to the Nairobi highway.
The Mlolongo district will also experience traffic jams due to the erection of a new pedestrian bridge. KeNHA has since advised all road users to exercise caution when driving or traveling in the area.
Those looking to reach Mombasa Road from areas around Syokimau and other adjacent areas were also warned of the disruption after access to the service road was blocked.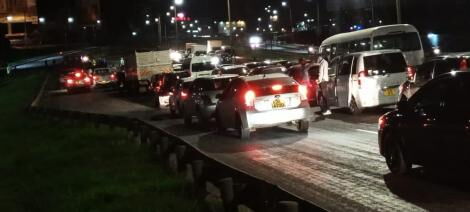 Motorists stranded on the Thika highway on April 17, 2021.
To file