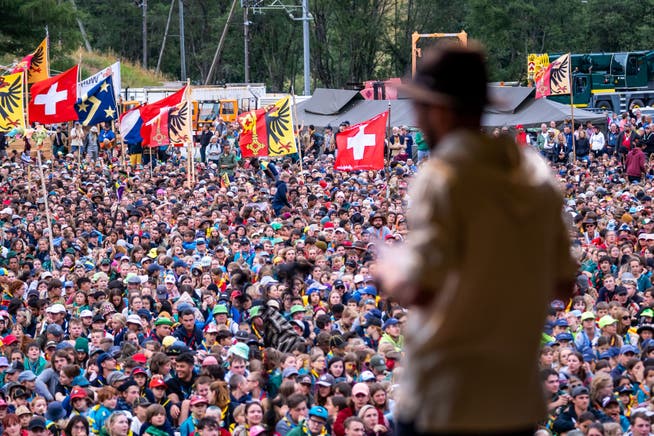 scout

"Mova": A great adventure in Valais comes to an end
Over 30,000 scouts experienced fun, adventure and friendship for two weeks in the federal camp. They returned home on Saturday. Also included: a backpack full of impressions.
Over 800 scout groups from all over Switzerland, around 5000 helpers and numerous international guests spent the past two weeks in Valais. A good 30,000 people were at the camp in Goms every day. Now it's over: the largest federal camp of all time officially ended on Saturday, or as Marc Haring – pathetic name "Speedy" – said at the request of CH Media: "All good things come to an end".
Around 5,000 Wölfli traveled home on Friday. On Saturday, another 20,000 scouts and Pio followed, who were transported to their homeland by public transport. "Everything is going very calmly and orderly," said "Speedy". Despite the trip home, the mood is good. "The children are tired and are looking forward to their home, their family and their bed." Nevertheless, there is a touch of melancholy in the air: "Because it was a great and wonderful time in Goms."
Children had the "time of their lives"
His conclusion is correspondingly positive. "We're completely satisfied," he said. "It was nice to see the whole scouting movement in one place and to experience its full power." There were only beaming faces in the whole camp. "The children had the time of their lives with beautiful and adventurous moments."
Of course, not everything went smoothly and adjustments were needed – for example when you saw which toilet facilities were needed more than others. "But our structures worked and there was never a problem that we couldn't solve," said "Speedy".
His personal highlight was when the first scouts arrived two weeks ago. "They were full of anticipation and very 'fidgety'," he said. "We've been working towards this for the past five years and invested a lot of time to see how the camp site fills with life." Then to see that everything was working the way you thought it would be great.
Everything will be restored within a week
Now it's all over. The first clean-up work has already begun. The departments had dismantled the small things themselves before leaving. The large buildings and infrastructure will be dismantled in the coming days. "The idea is that we can return the area to the community in just over a week," said "Speedy".