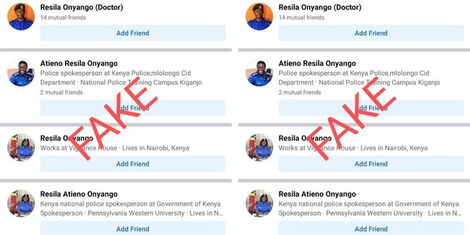 The National Police (NPS) issued a statement on Friday, Nov. 25, warning the public not to comment on the multiple accounts purporting to belong to its spokesperson, Resila Onyango.
According to the statement, the accounts are fake and operated by scammers with criminal intent.
The statement added that Onyango does not have a social media account and she only conducts business through the official channels of the NPS.
"We urge the public to refrain from interacting with the imposters as we liaise with other agencies for appropriate action on the pages and their handlers," the statement read in part.
A screenshot of the accounts flagged by the NPS on November 25, 2022.
NPS
"Please note that the police spokesman does not operate a social media account and only performs her official policing duties through the official NPS communication platforms.
Among the blacklisted accounts, there is one with "Resila Onyango (Doctor)" as the username and another with "Atieno Resila Onyango".
In a follow-up investigation of the aforementioned accounts on Facebook, TUSEN.co.ke found that the account named "Resila Oyango (Doctor)" had a total of 871 friends at the time of publishing this article.
Furthermore, the account used Onyango's portrait in police uniform as a profile picture, stealing her identity to confuse unsuspecting users.
Likewise, the other accounts had Resila Onyango's portraits as their profile pictures, with biographies claiming to be the police spokesperson.
The revelation came at a time of growing concern over disinformation being channeled through pseudo accounts by imposters on various social media platforms.
It is worth noting that Dr. Onyango was appointed as police spokesman on November 7, taking over from immediate former spokesman Bruno Shiosho.
The spokesperson is also director of Corporate Communications at the NPS and thus makes statements on behalf of the police on various aspects.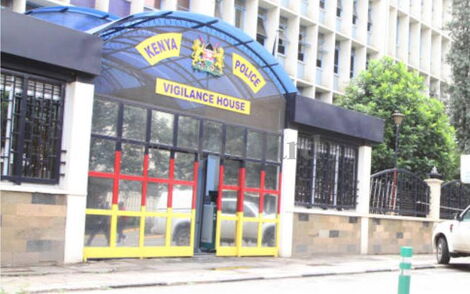 National Police Headquarters (NPS), Vigilance House
The standard
criminal to steal suspect