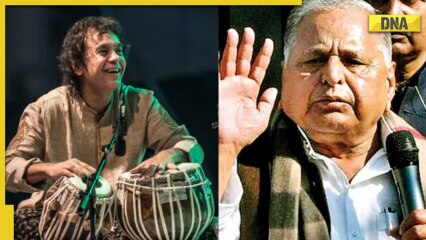 On the eve of the 74e On Republic Day, the Center announced a list of more than 100 individuals in the country selected to receive the 2023 Padma Awards. Several notable personalities such as the late political leader Mulayam Singh Yadav and Indian activist Sudha Murty have been named on the list.
A total of 106 people are included in the list of Padma Awardees 2023, including those who will receive the Padma Vibhushan, Padma Bhushan and Padma Shri, the highest civilian honors in India, after the Bharat Ratna.
So far, no one has been named for the Bharat Ratna, but the winner is expected to be announced soon. The list includes 6 Padma Vibhushan, 9 Padma Bhushan and 91 Padma Shri Awards. This year, 19 of the total prize winners are women.
Following is the list of people selected for the Padma Awards 2023

Padma Vibhushan 2023

Balkrishna Doshi (posthumous)

Zakir Hussain

S. M. Krishna

Dilip Mahalanabis (posthumous)

Sriniva Varadhan

Mulayam Singh Yadav (posthumous)
Padma Bhushan 2023
SL Bhyrappa

Kumar Mangalam Birla

Deepak Dhar

Vani Jairam

Swami Chinna Jeeyar

Suman Kalyanpur

Kapil Kapoor

Sudha Murty

Kamlesh D Patel
Padma Shri 2023

Dr. Sukama Acharya

Jodhaiyabai Baiga

Premjit Baria

Usha Barley

Munishwar Chanddawar

Hemant Chauhan

Bhanubhai Chitara

Hemoprova Chutia

Narendra Chandra Debbarma (posthumous)

Subhadra Devi

Khadar Valli Dudekula

Hem Chandra Goswami

Pritikana Goswami

Radha Charan Gupta

Modadugu Vijay Gupta

Ahmed Hussain & Shri Mohd Hussain *(Duo)

Dilshad Hussein

Bhiku Ramji Idate

CI Isaac

Rotan Singh Jaggi

Bikram Bahadur Jamatia

Ramkuiwangbe Jene

Rakesh Radheshyam Jhunjhunwala (posthumous)

Ratan Chandra Kar

Mahipat Kavi

M M Keeravaani

Areez Khambatta (posthumous)

Parshuram Komaji Khune

Ganesh Nagappa Krishnarajanagara

Maguni Charan Kuanr

Anand Kumar

Arvin Kumar

Domar Singh Kunvar

Risingbor Kurkalang

Hirabai Lobi

Moolchand Lodha

Rani Machaiah

Ajay Kumar Mandavi

Prabhakar Bhanudas Mande

Gajanan Jagannath Mane

Antaryami Mishra

Nadoja Pindipapanahalli Munivenkatappa

prof. (Dr.) Mahendra Pal

Uma Shankar Pandey

Ramesh Parmar & Mrs. Shanti Parmar *(Duo)

Dr. Nalini Parthasarathi

Hanumantha Rao Pasupuleti

Ramesh Patange

Krishna Patel

K Kalyanasundaram Pillai

VP Appukuttan Poduval

Kapil Dev Prasad

SRD Prasad

Shah Rasheed Ahmed Quadri

CV raju

Bakshi Ram

Cheruvayal K Raman

Sujatha Ramdorai

Abbareddy Nageswara Rao

Pareshbhai Rathwa

B Ramakrishna Reddy

Mangala Kanti Roy

KC Runremsangi

Vadivel Gopal & Shri Masi Sadaiyan *(Duo)

Manoranjan Sahu

Pataya Sahu

Ritwik Sanyal

Kota Satchidananda Sastry

Sankurathri Chandra Sekhar

K Shanathoiba Sharma

Nekram Sharma

Gurcharan Singh

Laxman Singh

Mohan Singh

Thounaojam Chaoba Singh

Prakash Chandra Soed

Neihunuo Sorhie

Dr. Janum Singh Soy

Kushok Thiksey Nawang Chamba Stanzin

S Subbaraman

Moa Subong

Palam Kalyana Sundaram

Raveena Ravi Tandon

Vishwanath Prasad Tiwari

Dhaniram Toto

Tula Ram Upreti

Dr. Gopalsamy Veluchamy

Dr Ishwar Chander Verma

Coomi Nariman Wadia
'Padma Vibhushan' is awarded for exceptional and outstanding service; 'Padma Bhushan' for excellent service of high order and 'Padma Shri' for outstanding service in every field.
(with PTI inputs)
READ | Padma Awards 2023: Raveena Tandon, RRR Composer MM Keeravani To Be Honored With Padma Shri
.