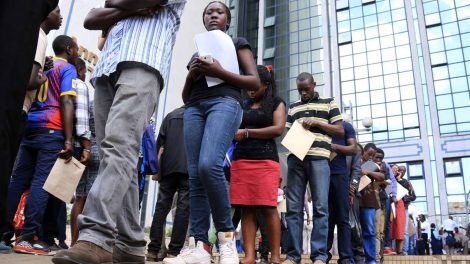 Vice President William Ruto released his education charter detailing an ambitious plan to change the face of education in the country.
Through a document seen by TUSEN.co.ke On Friday, June 24, Ruto explained his game plan which aims to improve the quality of education and ensure it is affordable and accessible to all TUSEN.
The charter applies to all levels of education, from preschool, primary and secondary schools to higher education establishments.
Plans for higher education institutions
File photo of students queuing to submit their HELB details at Anniversary Towers Nairobi
Case
Kenya Presidential candidate Kwanza, through the charter, has promised to introduce a nationwide one-to-two-year paid internship program for all graduate students in educational institutions through smooth collaboration with the private sector.
The former MP for Eldoret North also pledged to secure interest-free HELB loans for students and to double the institution's current funding from Ksh 11 billion to Ksh 22 billion.
In addition to this, he also promised to increase vocational centers and technical universities.
"Establish a Vocational Training Center (VTC) in each of Kenya's 1,450 wards. Kenya Kwanza Administration will provide conditional grants to county governments in its first year to ensure that in addition to the 1,200 existing we will build 250 VTC in services that are currently lacking", its charter read in part
"Increase the number of technical universities from three to eight currently; at least one in each region and ensure that all TVET is linked to universities by developing a credit transfer framework to support academic progression."
Basic education plan
In his basic education plan, Ruto pledged to employ 58,000 teachers at a cost of Ksh 25 billion a year to fill the shortage in schools across the country.
The second-in-command also promised to strengthen secondary day schools to ensure access to quality education and reduce the cost of education.
"Create a National Elimu Fund which will be mandated to regulate, mobilize, disperse and manage all education
grants, scholarships and scholarships from private and public sponsors. The fund will cover accommodation and related costs," the charter reads.
Ruto also promised to solve the problem of school girls by providing free sanitary napkins to all primary and secondary school students.
"Enforce a 100% back-to-school policy for all teenage mothers and ensure that they automatically benefit from existing government scholarship initiatives."
To address issues raised by principals regarding the running of schools, Ruto promised to work with different stakeholders to introduce special packages for all schools.
"In order to protect schools with low enrollment rates and enable them to meet the fixed costs of running the school, introduce a minimum essential package (MEP) in public primary and secondary schools, in order to ensure a consistent access to basic services by all public schools.
"Introduce a special service tariff for all educational institutions for basic public services to facilitate their seamless access and connectivity. These include electricity, water and internet connectivity for digital learning which often eats up a huge chunk of school budgets," its charter added.
The leader of the United Democratic Alliance (UDA) party has also promised to ensure that students from marginalized areas receive equal treatment and allocation of government resources.
However, he did not detail his full plan on how he intends to change from the current skills-based curriculum that has been rolled out by the administration of President Uhuru Kenyatta.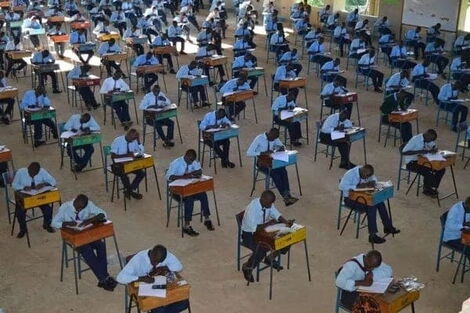 Student seat for a KCSE exam.
Case