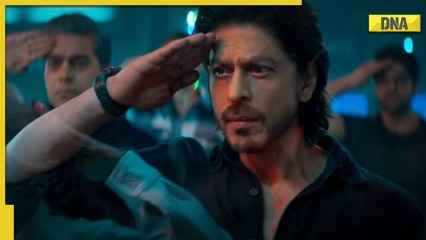 Pathan

Form: Shah Rukh Khan, John Abraham, Deepika Padukone, Dimple Kapadia and Ashutosh Rana
Director: Siddharth Anand
Where to watch: theatres
Review: 3.5 stars
The hype is worth it. The wait – four and a half years – was worth it. And it was totally worth braving the chills of winter to see the first show of the first day. Pathaan is the kind of blockbuster Bollywood has been waiting for amid its post-pandemic gloom. Eulogies have been uttered, tombstones erected and Bollywood declared dead, but Pathaan is bringing it back to life. And fittingly, it's all done on the shoulders of the man who was superstar for two decades: Shah Rukh Khan. In his comeback movie, the man reminds the audience why he was called king and sends a message to everyone: "superstardom zinda hai!"
Pathaan is the story of the titular RAW agent (Shah Rukh), who returns to action after years in exile. A bit meta and on the nose, but it fits. He's brought back to stop his old nemesis Jim (John Abraham back as a memorable villain). He teams up with unpredictable Pakistani agent Rubina aka Rubai (Deepika Padukone) to avert a deadly terror threat to India. The plot is straightforward and even predictable at times. But Pathaan was never intended to let the public use their gray matter. It's a real entertainer that should make you scream, whistle, clap and even dance. It's a throwback to the masala entertainers most of us grew up with. And it delivers in style too.
Pathaan differs from many other recent masala activists in that his hero is not omnipotent. He's not KGF's Rocky or War's Kabir or Tiger who can beat 50 goons single-handedly. He is vulnerable, but he uses his knowledge of weapons, martial arts and wits to win. When facing off against the much larger, more powerful Jim, Pathaan is overwhelmed, even nearly defeated. But like a hero, he finds a way. That vulnerability means he's under threat, which makes Pathaan a better watch than many other movies where the hero is an unstoppable force.
The highlight of the film is the crackling chemistry of the protagonists. No, I'm not talking about Shah Rukh and Deepika. It is the scenes with John Abraham and Shah Rukh that take the cake. As two spies and warriors on the opposite side of the battle, they display animosity, respect and hatred for each other in a beautiful mix that will have you applauding them. Deepika is a wonderful foil in a role that is much more than just the damsel in distress. She fights, kicks her ass and outsmarts even the bad guys. Her ambiguity – is she good, is she bad – is good to see and the actress knows how to bring out that devilish unpredictability well.
And yes, it all comes down to Shah Rukh Khan's charm. The actor reminds the audience why he was a superstar. A generation of moviegoers watched him dominate the screen. And then another generation saw him fumble and fumble in the Zeros and the Fans of Bollywood. Many younger viewers wondered why this man is such a big star. They hadn't seen his magic on the big screen. Shah Rukh is back with that magic and how. This time he is an action hero. I must admit I was skeptical if he could do that, but Pathaan is a perfect role for him. It just might give us Shah Rukh 2.0 that we've all been waiting for. And the cameo, yes, that everyone is talking about, is icing on the cake. That's another scene where the chemistry of the two superstars shines.
The background music, especially the theme used for John Abraham, will evoke some whistling in the theater. The action is top notch, even if some scenes feel a bit exaggerated and implausible. But if it works for Baahubali and KGF, you don't have to mock the same in Pathaan. Hollywood has done sequences of this scale before, but with more finesse. Pathaan is a good next step after War to internationalize Indian action films.
The performances are frankly nothing to write home about. But for this genre they are good enough. Shah Rukh Khan is finally a proper action hero after several misses in a long career. John Abraham evokes Dhoom memories. His Jim is a good strong villain that he makes better with his presence. Deepika Padukone looks great and handles well too. It's a part where she can show both strength and vulnerability and she whizzes through the film. Ashutosh Rana and Dimple Kapadia add much-needed gravitas, though they'll both agree it's probably not their best work.
All this does not mean that the film has no flaws. The plot is thin and there are also some loopholes. The characters are stereotyped and sometimes the emotional scenes don't have the kind of weight they should. Shah Rukh is serious and Deepika tries but the direction falters in some of the tender moments. But Pathaan's target group doesn't mind. It's a formula that has seen War, Dabangg, Tiger and Singham succeed. Pathaan takes that formula up a notch. The film is paisa vasool in every way. A masala entertainer who has perfected Bollywood over decades and served just perfectly. Go check it out if you want to be entertained!
READ: Pathaan release, ratings live updates: 300 more shows added after Shah Rukh Khan starrer gets thunderous response
.