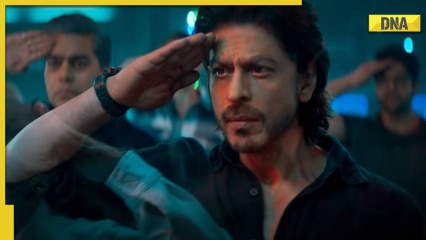 After much hype and another promotional campaign that managed to pique curiosity, Pathaan hit theaters on Wednesday. While the film has opened to a phenomenal response with packed houses, fans are already speculating about the future. Pathaan is part of the YRF Spy Universe, connecting it to War and the Tiger series. A few cameos and references in the movie kick up the universe, and the movie's post-credits scenes add a delicious icing on the cake.
Pathaan spoilers ahead!

If you haven't seen Pathaan yet, you may want to stop reading as this article contains a number of spoilers for the movie, including plot details and some surprises, but most importantly, the description of the film's two post-credits scenes. Yes, the movie has not one but two post-credits scenes, just like a Marvel production. The first is a mid-credits sequence that sets up a sequel, which is followed by a really funny meta-credits sequence.
The first of the post-credits sequences begins right where the movie ends. Pathaan (Shah Rukh Khan) plans to part ways with RAW and go his own way after the departure of his senior and mentor (played by Dimple Kapadia). Ashutosh Rana's character stops him and asks him to stay behind, giving him the reins of the program Dimple was running. He tells him that the task of protecting India is not only for Pathaan or Tiger or Kabir, it needs all of them together.
The reference to Shah Rukh's Pathaan possibly teaming up with Hrithik Roshan's Kabir and Salman Khan's Tiger raises the stakes for the YRF Spy Universe and is sure to make fans happy. While nothing has been announced in the franchise outside of Tiger 3 as of yet, there are rumors that the three stars will team up for an Avengers-esque mega-movie in the future.
While fans may have to wait for Kabir and Pathaan to team up, Tiger did appear in the film with Pathaan. Salman Khan won over fans with his crushing cameo in a spectacular action scene in the second half. Salman and Shah Rukh teamed up for a big action piece on a train. The credits scene then begins with Tiger and Pathaan on the rails. The conversation between them is an almost fourth-wall-breaking gag in which the two actors reflect on the fact that they've been doing this for 30 years and if they should stop. They wonder who could replace them, but decide that no one is good enough. In the end, Shah Rukh's Pathaan tells them to continue because "bachchon par nahi chhor sakte (can't leave all this to children)."
The talk is a clever parallel to Shah Rukh and Salman's domination of Bollywood for nearly three decades now and how no younger and newer actor has been able to 'replace' them.
Pathaan, directed by Siddharth Anand, also stars Deepika Padukone and John Abraham in pivotal roles. The film received mixed to positive reviews and good response from the audience. It is on course to become the first blockbuster of 2023.
.