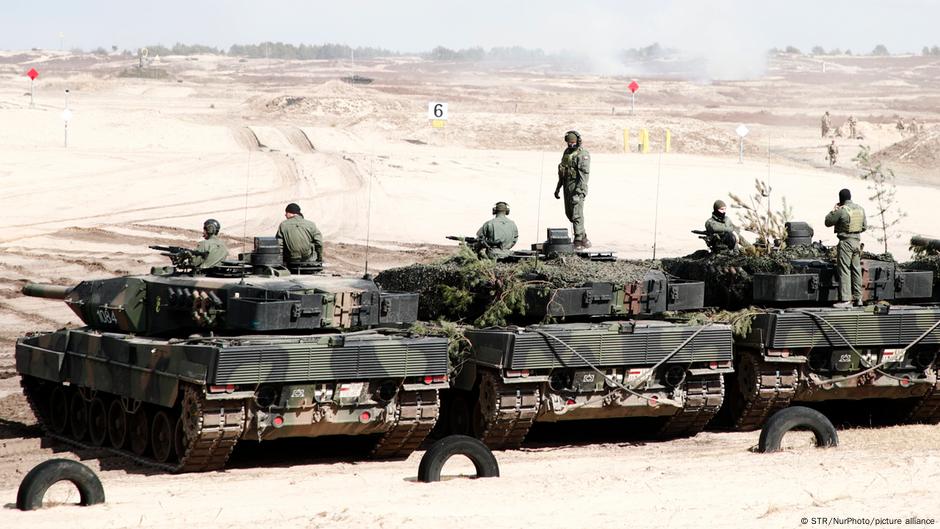 The Polish government has officially asked Germany for permission to supply Ukraine with Leopard 2 main battle tanks, Defense Minister Mariusz Blaszczak announced on Twitter on Tuesday. He also called on the German government to "join the coalition of countries that support Ukraine with Leopard 2 tanks".
Within hours, German media reported that the government of Chancellor Olaf Scholz was planning to send its own Leopard 2 tanks to Ukraine.
In recent days, the Polish government has repeatedly made clear its determination to reinforce Ukraine with the tanks it urgently needs – with or without Germany's consent.
Polish officials were deeply disappointed by the outcome of the Ukraine Contact Group meeting at US Ramstein Air Force Base on Friday. The German government had still not decided on the delivery of Leopard tanks to Ukraine. Both Polish President Andrzej Duda and Prime Minister Mateusz Morawiecki had made it clear that they would not be discouraged by Germany's hesitation.
"Ukraine and Europe will win this war – with or without Germany," Morawiecki told the Polish news agency PAP over the weekend.
That recalled an earlier statement by Duda, who had said in October that "Poland will stand with Ukraine, no ifs or buts: that's our reason of standing."
Germany's 'nice statements'
Prior to Tuesday's reports, Polish government spokesman Piotr Müller had said it was unfortunate that Germany seemed unwilling to supply heavy weapons to Ukraine from the Bundeswehr's reserves. "The picture that Germany presents is disappointing," he said. "It makes nice statements about human rights, about European values, but in reality they are not respected in a difficult situation."
And the Polish government had made it clear that it would send the tanks without Germany's consent as part of an alliance of countries willing to take such actions. "If the Germans are not part of this coalition, then we, along with others, will still send tanks to Ukraine," Morawiecki said.
Polish officials had found encouragement in recent remarks from German Foreign Minister Annalena Baerbock, who told French broadcaster LCI on Sunday that "at the moment the question has not been asked, but if we were asked, we would not be in the stand away".
Excerpts from the interview were widely featured in Polish TV news programs. Morawiecki said Baerbock's remarks represented a "glitter of hope" that the Germans would "not only give up their obstructive approach, but also supply heavy weapons themselves". He claimed that this was the result of pressure from Poland.
Poland is afraid of Russia
Poland also views Russia's invasion of Ukraine in February 2022 as an existential threat to its own security. If Ukraine were defeated, Russian President Vladimir Putin's troops would be on the Polish border. "Ukraine must win; Russia must lose" is a common slogan in Poland, but in Germany some politicians can't bring themselves to say it. During a visit to Berlin a few days ago, Morawiecki warned that "a Ukrainian defeat could be the prelude to a third world war".
There is widespread support for military aid to Ukraine throughout Poland. According to a survey published in December by the IBRiS Institute, 77.5% of respondents were in favor of sending military aid to Ukraine.
Poland has not only taken in millions of refugees; it has also delivered 300 armored vehicles to Ukraine, including more than 230 Soviet-manufactured T-72 main battle tanks.
In December, the Rzeczpospolita newspaper quoted the Kieler Institute for the World Economy as reporting that Poland had supplied Ukraine with €1.82 billion ($1.98 billion) in arms and military equipment, placing the country fourth behind the United States. States (€22.86 billion). , Great Britain (€4.13 billion) and Germany (€2.34 billion).
Poland pledges support
A planned "ring exchange", whereby Poland would send tanks to Ukraine and Germany replenish Poland's supplies, did not materialize. Instead, the Polish army bought tanks from the United States and South Korea. According to newspaper reports, Poland now has 249 Leopard A4 and A5 main battle tanks and can hand over some of its older models.
During a meeting with Ukrainian President Volodymyr Zelenskyy in Lviv in January, Duda said Poland would give 14 leopards to its neighbor.
"I am confident that the decision on the supply of Leopard to Ukraine will be taken soon," Slawomir Debski, the director of the Polish Institute of International Affairs, told Dziennik Gazeta Prawna newspaper. "America has given the green light." He added: "I'm surprised the Germans are still trying to block it. The political damage is huge and they gain nothing."
Rzeczpospolita's editor-in-chief, Boguslaw Chrabota, warned that "if Berlin does not change its mind and the armaments are not delivered to the besieged country, the fire of war will flare up on the Polish borders." He gloomily concluded that "Ukraine will be the first victim; the second will be neighboring Poland."
Tuesday's reports may lead to an update to that assessment.
This article was originally written in German.