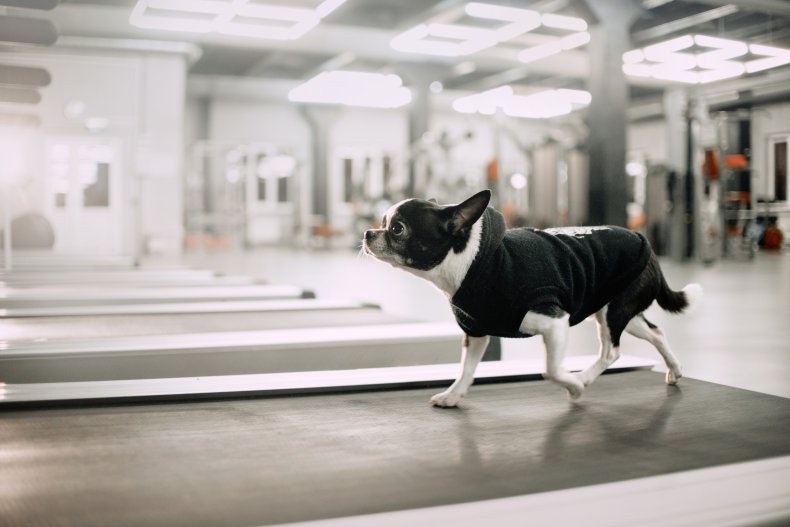 A video of a dog using a treadmill to relieve his anxiety has gone viral on TikTok, where it has more than 212,000 views at the time of writing.
The clip, shared by @aclownandherdolly, was topped with a message that read: "Molly is a rescue dog and has a hard time with anxiety at night. Molly runs on her treadmill before going to bed to physically tire herself out so she's more can rest." sleeps."
The video shows the dog diligently running on the treadmill, tongue sticking out and ears flapping.
A study of 13,715 dogs in Finland looking at seven anxiety-like traits in dogs (including sensitivity to noise, fearfulness, fear of surfaces, inattention/impulsivity, compulsive behavior, aggression, and abandonment-related behaviors) found that 72.5 percent of dogs dogs exhibited "some sort of very problematic behavior."
The study, which was published in March 2020 in the peer-reviewed Scientific Reports, said, "Sound sensitivity was the most common fear trait, with 32 percent of dogs being highly fearful of at least one sound."
Studies have also shown that music can have a calming, relaxing effect on dogs.
A January 2020 study in the peer-reviewed journal Animals said that "exposure to classical music appears to have a calming effect on dogs in stressful environments."
The study concluded: "The use of music in the context of domestic animals shows great potential as an effective and easy-to-implement therapeutic measure with many benefits for animal health and welfare.
A March 2017 study in the peer-reviewed journal Physiology & Behavior said classical music reduces stress in kennel dogs.
The study's findings suggested that "auditory enrichment" produces positive physiological and behavioral changes in kennel dogs.
The latest viral video has melted the hearts of users on TikTok.
User bex_ray_spex wrote: "Molly has healthier coping mechanisms than me, tbh [to be honest] [crying laughing emoji]," to which the original poster replied, "While I was eating chips and watching her [crying laughing emoji]."
Melissa Jaimez simply wrote, "The ears [floating hearts emoji]," while Samantha Pierson said, "She loves this so much [floating hearts emoji]."
User zinb12523 wrote: "I think we're all a little Molly [red heart emoji]," to which the original poster replied, "Couldn't agree more."
News week has contacted the original poster for comment. The latest video has not been independently verified.