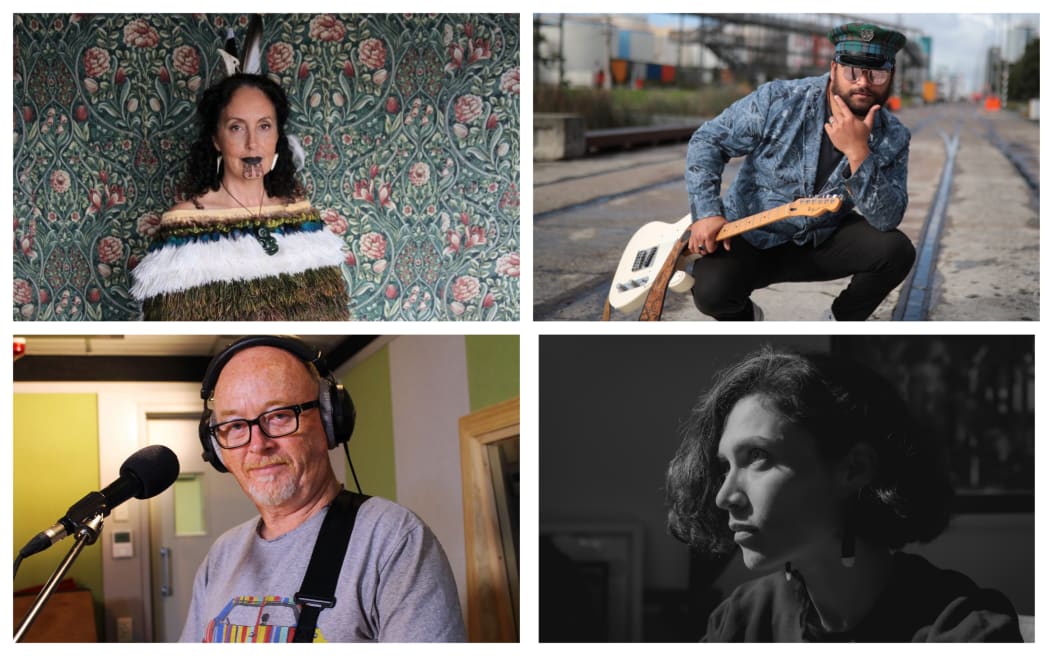 A selection of prominent New Zealand musicians spoke to RNZ about what the Maori New Year means to them, as part of Matariki's first public holiday coverage.
Hosts Kara Rickard and Mark James Williams (MC Slave) spoke with some of New Zealand's best-known musicians about what they've come to think of this Matariki and what it means to them that the country celebrates the day together.
Indie-pop singer-songwriter Anna Coddington was already very familiar with kaupapa Matariki, having previously explored it to help produce a song about it and to help create an app for children about Matariki.
"Matariki is part of a much larger constellation of stars, which is a waka [Te Waka o Rangi]- and the captain of this waka, Taramainuku – the waka descends below the horizon, and when it rises – Taramainuku has collected all the souls of all the people who have died in the past since the last Matariki, and it throws into the sky to become stars. I thought he was such a beautiful korero."
"You always hear these weird science facts like 'we're all made of stardust' – because in fact we are – it's the formation of the universe as we understand it. Even in western science , that's how it happened.
"We've just come out of this weird mass of atoms and become the people we are and we're coming back and being part of the universe – it's buzzing."
Helping to create the app, Te Mātahi a te tau, also meant learning the traditions of the iwi who do not celebrate Matariki, but instead embrace Puanga.
"It was really cool to learn these traditions… for some people [further south in New Zealand] Puanga is just much clearer and easier to see. But every iwi has a kōrero about all those stars.
"It's not like you're Matariki or Puanga, traditionally everyone knows them both, it's just that some focus more on Puanga – Poaka [or Puaka] in the South Island – and a bit more about Matariki."
Reggae band LAB wanted to do something special to mark Matariki, so play a Matariki gig in Wellington tonight.
Frontman Joel Shadbolt told Rickard and Williams that Matariki was an opportunity to spend time together.
"It's so cool that this is finally being officially recognized, it's always been a time to spend time with family, reflect on the past year and just eat together – which I'm sure we will do as LAB whānau."
Dave Dobbyn said Matariki brings home our place in this country, the connections between generations and the importance of reflecting on both the history of where we come from and where our whānau go.
"I love where it's from – the Pleiades. I had an amazing time with my son when he was about two, took him to the war museum…there were some Dobbyns on the wall of the room. fame, and it put me in a really reflective mood.
"I was kneeling outside with my little son and the sun was coming in and there was Rangitoto and the beautiful harbor and everything, and I felt this incredible space – like I could see through time what our ancestors and our ancestors gave us, and then I wondered what kind of future this little guy was going to have – it was a really powerful moment – which feels like the essence of Matariki in terms of practical use."
"I think what I appreciate the most is looking in front of children, looking to the future, thinking about the hearts and minds of children growing up. Let's look at these nine stars and hope for the future. coming."
In 2017, Dobbyn reissued his hit welcome to the house in you reo: Nau Mai Ra. He said that although he didn't know te reo, he had wonderful coaches who helped him with the pronunciation.
"It was amazing, I got all this traffic on Facebook – all these people are enjoying it. It's a rebirth of the song in another way.
"And I think a lot of people enjoyed it deeply, and I just know that at some point I'll see mokopuna learning poi and doing kapa haka with that song in mind.
Journalist and singer Moana Maniapoto told RNZ that taping her own show this morning on Matariki's first national holiday was: "reflective, humorous, and it was an opportunity to reset".
She noticed an "outburst of creativity" as many artists posted offers for Matariki.
"I think it's nice to have a party in the middle of the smelly old New Zealand winter.
She had taken time to reflect on those who had died over the past year and planned to join her partner Toby Mills for the release of his documentary Whetū Mārama – Bright Star, about celestial navigator Sir 'Hek' Busby.
Thirty years ago, she says, there was no widespread knowledge of what Matariki was, even among many Maori.
"It was colonized by us. I didn't grow up with it. I interviewed Sir Hek Busby for an event…many years ago, and I told him about it, and he said no, all he knew about it was that we were going to pick a certain kind of seaweed at this time of year, but I never heard my father and his brothers mention it.
"It's fantastic that through the efforts of many people, this is coming back and giving us the opportunity to create and reaffirm our own indigenous spirituality and reconnect with the environment.
"I think it's very exciting. We didn't grow up with Matariki, but we're here to embrace him, and delighted that a younger generation [is here for it]. Had to go to my daughter to reel off the stars – there's this whole cohort of youngsters out there who can confidently navigate the stars – how convenient!"
Hamilton band IA, recorded a Matariki greeting for RNZ for the day, and a special version of their song Whetū, (meaning: star), which reflects the ideas behind Matariki: "He recognizes the past, the present and where we are. , and the future we have before us.
"It recognizes our ancestors, our whānau and our friends who have gone beyond the veil of darkness beyond the stars, beyond the whetū. It also takes into account that they laid the fundamental work for us all here today…and it recognizes that we all have the opportunity to renew and invigorate the path we choose to walk."
Troy Kingi and Delaney Davidson collaborated for the 2021 album Black Sea Gold Scaleand talked to RNZ about Matariki together.
"I think it's just cool that [Matariki] has gone mainstream, and people who might not know it, are learning what it's all about," Kingi said.
"It's a great start to learn about our Maori heritage, and the tikanga that has been around for a long time – the only way to keep them alive is to keep them going.
Davidson said Matariki's unique New Zealand character is something special to cherish: "Observing the time of year in a way that means something to us as a motu, as a country, as a as a nation, and not just something European.
"The time to take stock and predict or look at what's coming, that intern saying goodbye, is New Year's time in Europe because over there it's the middle of the winter – it has nothing to do with [here].
"We have these amazing Christmases on the beach – get yourself a surfboard – but to have something that really connects us, to have those moments of introspection, I think it's important that we have that, and it's is specific to us."
.