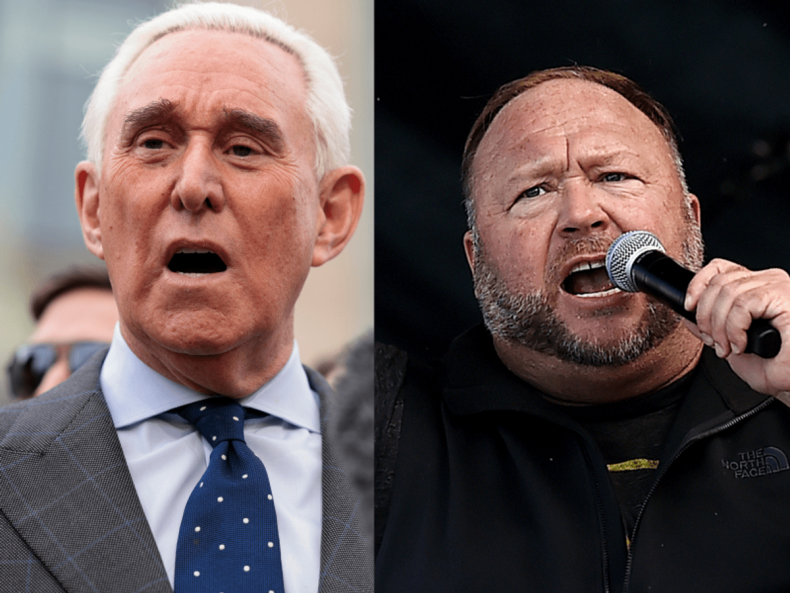 Conservative political adviser Roger Stone recently called for contributions to support Infowars founder and host Alex Jones after he was hit by a $45.2 million verdict in a defamation lawsuit for peddling conspiracy theories about the Sandy Hook Elementary School shooting. in 2012.
"Alex Jones is a good and decent man," Stone said during an Infowars appearance in a video shared on Twitter by commentator Ron Filipkowski Friday. "He's a God-fearing Christian…and right now he needs our support." Stone added that contributions can be made through the Infowars store.
Stone, an ally of Donald Trump, has been a guest on Infowars many times and is said to have arranged an interview between Jones and Trump together in December 2015, according to The New York Times. In addition, Sandy Hook family attorney Mark Bankston claimed that the leak of Jones' phone records revealed "intimate messages" with Stone, according to Insider, but no further details about the texts were revealed.
Stone's comments came after a Texas jury ruled Friday during a defamation trial that Jones must pay $45.2 million in punitive damages, in addition to $4.1 million in compensatory damages to Neil Heslin and Scarlett Lewis, the parents of a 6 -year-old boy who was killed in the Sandy Hook school shooting for falsely claiming the incident was staged by "crisis actors." He also has to pay an additional $1.5 million in fines.
"Neil and Scarlett are thrilled with the outcome and look forward to putting Mr. Jones's money to good use," Bankston said in a statement obtained by News week. "Mr. Jones, on the other hand, won't be sleeping peacefully tonight. With the damages still to be decided and several defamation lawsuits pending, it's clear that Mr. Jones' time on the American stage is finally coming to an end. "
The shooting in Newtown, Connecticut, on December 14, 2012, killed 20 children and six school employees.
"We're asking you to send a very, very simple message, which is: stop Alex Jones. Stop monetizing misinformation and lies," Wesley Todd Ball, the parents' attorney, told the jurors on Friday. according to Reuters.
Meanwhile, during his testimony at his trial, Jones decided to distance himself from his conspiracy theories by apologizing to the parents and admitting that the Sandy Hook shooting was "100 percent real."
He also said any monetary damages worth more than $2 million would sink Infowars, despite family lawyers presenting evidence in court suggesting Jones earns up to $800,000 a day.
Jones' attorney Federico Andino Reynal asked the jury Friday to award the family less than $300,000 in damages, saying the parents had "already sent a message" to Jones and "all talk show hosts."
News week contacted Infowars media office for comment.