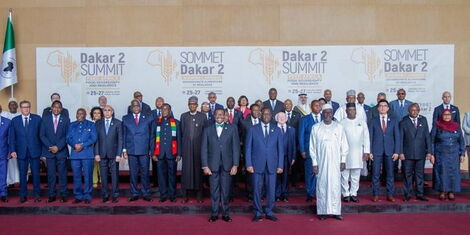 President William Ruto and other African leaders secured Ksh 1.2 trillion funding from the African Development Bank (AfDB) at the Feed Africa Summit in Dakar, Senegal, on Wednesday, January 25, at the Feed Africa Summit.
Ruto stated that the funding would go to food production in Africa for five years.
In addition, the president stated that there was a need for private and public partnerships to support agricultural projects in the country due to the decline in food production at a time when demand was high.
African leaders pose at the Feed Africa Summit in Dakar on Wednesday, January 25, 2023.
Twitter/William Samoei Ruto
"We are grateful to the African Development Bank who have pledged to invest Ksh 1.2 trillion in food production in Africa.
"There are huge opportunities for the partnerships that will enable us to carry out major agricultural projects due to the increasing demand for food," said Ruto.
In addition, Ruto confirmed that Kenya had several agricultural opportunities, including investments in agricultural supply, irrigation and manufacturing.
"These opportunities, including investment in actual production, agricultural supply and irrigation, will meet our need for adequate production," the president stated.
Ruto challenged the private sector to form investment partnerships with the government by supplementing the government's agricultural programs.
"Private sector support for government programs will lead to a long-term increase in agricultural production in the country," explains Ruto.
Ruto was a keynote speaker at the Dakar 2 Summit on Food, Sovereignty and Resilience, which was part of his three-day official visit to France and Senegal.
On Tuesday, January 24, the president held bilateral talks with his French counterpart Emmanuel Macron in Paris. The meeting aimed, among other things, at strengthening trade relations between the two nations.
Although Ruto and Macron admitted the existence of strong bilateral relations, they pledged to take measures aimed at diversifying and exploiting existing business opportunities between Nairobi and Paris.
The president also discussed Kenya's participation in security operations to restore peace in the East and Central African region.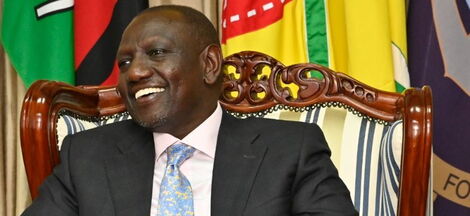 President William Ruto will host the Council of Ministers of the East African Community (EAC) at State House, Nairobi on January 17, 2023.
PSCU
Ukraine