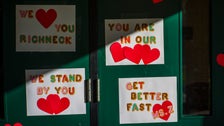 Before a 6-year-old student at a Virginia elementary school shot his teacher, school staff told administrators three times that the child had a gun, the victim's attorney said.
Abby Zwerner, a 25-year-old first grade teacher at Richneck Elementary School, was shot by her student on Jan. 6 and released from the hospital last week. Her lawyer, Diane Toscano, told reporters Wednesday that staff members repeatedly told school administrators that the boy had a gun, but those warnings were apparently ignored.
On the day of the shooting, Zwerner told administrators that the 6-year-old threatened to beat up another student. Later that afternoon, another teacher who believed the boy had a gun told administrators that she had searched the child's backpack and said she believed the boy had put the gun in his pocket. An administrator reportedly downplayed the concern by telling the teacher that the boy "has small pockets," Toscano said.
Superintendent George Parker III previously said in a virtual town hall that at least one administrator was "informed of a possible weapon," but no gun was found when the boy's backpack was searched.
Another teacher said a boy cried after the 6-year-old showed him the gun and said he would shoot him if he told anyone. Hours later, the 6-year-old shot his teacher, Toscano said. Toscano said Zwerner, who still has a bullet lodged in her body, is suing the school district.
"That day, over the course of a few hours, three different times — three times — the school board was alerted by concerned teachers and employees that the boy had a gun pointed at him and was threatening people," Toscano said. "But the administration didn't care."
The 6-year-old's parents said their son has an "acute disability" and was covered by a plan that required at least one parent to be in class every day. The week of the shooting was the first week neither parent took their child to class.
"The firearm our son had access to was secured," the parents said in a statement to BuzzFeed News through their attorney, James Ellenson. It's not clear how the child got the gun.
On the day of the shooting, Zwerner texted a loved one to express her frustration that her student had a gun and school officials did nothing to act, according to an NBC News report.
.