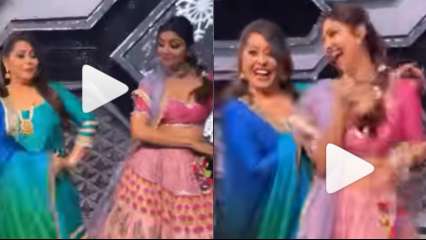 Shilpa Shetty is the latest Bollywood star to become a fan of "Manike Mage Hithe", a popular Sri Lankan song. The actor posted a video on Saturday of herself and fellow judge Geeta Kapur dancing to the song on his Instagram account.
Shilpa and Geeta performed the song in a pink lehenga, matching not only their footsteps but also their facial expressions. Shilpa couldn't help but burst out laughing at the end of the little dance. She shared the video with the caption: "This is what we call 'Stupendofantabulouslyfantasmagoricallymagical'!"
Watch the video here-
She recently shared a thoughtful post about "recovering from the pain" amid the ongoing porn racketeering controversy surrounding her husband and businessman Raj Kundra.
Even after the outcry, Shilpa remained active on social media, posting motivational posts on her Instagram account. The "Dhadkan" actor uploaded a photo from a book with a quote from Christiaan Barnard to his Instagram account.
The quote read: "Suffering does not ennoble, recovery is." Below the quote was a thoughtful post highlighting how the process of recovering from tough times makes someone stronger. It ended with a thought, "I hate bad times as much as anyone, but I know I'm strong enough to get through them and get over them."
Shilpa's post came after her husband Raj was released on bail in the pornography case by a Mumbai court on Monday, with a guarantee of 50,000 rupees. Raj's colleague Ryan Thorpe has also been released on bail by the court. He would also be required to provide a deposit of Rs 50,000.
Meanwhile, on the work front, after taking a brief hiatus after her husband's arrest, Shilpa is once again busy judging the dance reality show "Super Dancer 4", alongside Geeta Kapur and Anurag Basu. On the cinema side, she was recently seen in "Hungama 2" by Priyadarshan.
.