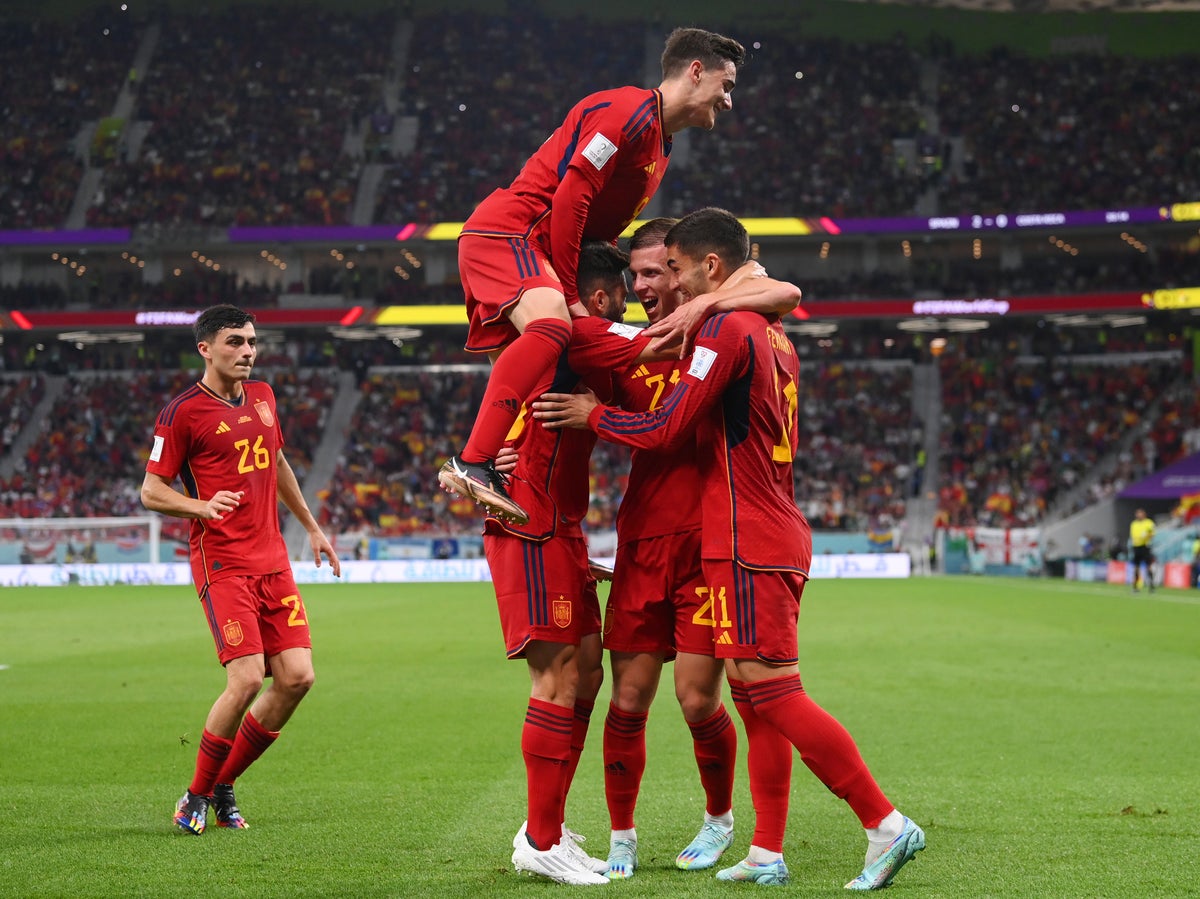 'I am the leader' – Luis Enrique looks ahead to World Cup coaching debut
Spain and Costa Rica meet in Group E of the 2022 World Cup in Qatar. Luis Enrique's side are placed in a potentially tough group that also includes Germany and Japan, so three points from this match will ease the pressure on the European side.
Since winning the World Cup in 2010, La Roja has underperformed on football's biggest stage. They crashed out in the group stage defending the title in 2014, losing to Russia in a last 16 penalty shootout four years ago. Enrique has assembled a group of young attacking talent who will no doubt believe they can return Spain to their former glory.
This new generation of Spanish players narrowly missed out on a place in the Euro 2020 final last summer after losing to Italy in the semi-finals (by yet another penalty shootout) but with Barcelona's Pedri (19) and Gavi (18) on the verge of starting in midfield La Roja are well set to shine in Qatar.
Their opponents today are World Cup dark horses Costa Rica. In 2014, they shocked England and Italy by qualifying from the group alongside Uruguay before losing a penalty shoot-out to the Netherlands for a place in the semi-finals. Keylor Navas and Joel Campbell participated in that tournament and remain an important part of the team this time around.
Follow all the action from Qatar with our live blog below:
1669222976
HT Spain 3-0 Costa Rica
With Gavi and Pedri both starting, Spain become the first European side to name two teenagers in their starting eleven for a World Cup match since Bulgaria against England in 1962 (Echev and Sokolov).
At 18 years and 110 days, Gavi became the youngest player to play for Spain in a major international tournament (World Cup + European Championship) in the history of the national team.
Michael JonesNov 23, 2022 5:02 PM
1669222701
HT Spain 3-0 Costa Rica
Michael JonesNov 23, 2022 4:58 PM
1669222258
Rest: Spain 3-0 Costa Rica
45+5 min: Good block! Marco Asensio has almost a second after slipping into the left side of the box. He shoots from a narrow angle, but Oscar Duarte jumps in front of the ball and blocks it with his elongated body.
That is the last act of the first half and Spain goes into halftime with three goals ahead.
Michael JonesNov 23, 2022 4:50 PM
1669222162
Spain 3-0 Costa Rica
45+3 min: Almost! Spain cut through Costa Rice with two passes. They hit it in the back just enough before Rodri skirts midfield with a through ball to Gavi.
He collects it on the edge of the box and wants to play in Asensio. The attacker is hot on his heels and Gavi's pass into the penalty area blasts past him before he can get into space.
Michael JonesNov 23, 2022 4:49 PM
1669221968
Spain 3-0 Costa Rica
45 min: Five minutes of stoppage time are added at the end of the first half. Costa Rica needs to get in the breakaway, they are caught off guard at the moment.
Michael JonesNov 23, 2022 4:46 PM
1669221802
Spain 3-0 Costa Rica
42 min: Costa Rica already looks tired. They hardly had time in possession and have to defend diligently. Asensio runs after the defense and catches the ball coming over the top from the right wing.
He is knocked out by some defenders, but manages to let go of the ball as his teammates join him in the final third.
Michael JonesNov 23, 2022 4:43 PM
1669221681
Spain 3-0 Costa Rica
39 min: Costa Rica have finally moved to a back-five, but Spain use short sharp passes to play around them. They have six men in and around the penalty area as Cesar Azpilicueta brings the ball down the right wing.
Ferran Torres runs from the ball to the box, but Azpilicueta's cross bounces over his head and Costa Rica turns away from danger.
Michael JonesNov 23, 2022 4:41 PM
1669221468
Spain 3-0 Costa Rica
36 min: Spain have scored three goals in the first half of a World Cup match for the second time in their history, including against Brazil in 1934.
Jewison Bennette, the young Costa Rican striker, tries to push his team forward. He brings the ball down the left side, but gets into trouble and dispossessed as there are limited options in the penalty area for him.
Michael JonesNov 23, 2022 4:37 PM
1669221383
Spain 3-0 Costa Rica
33 min: Spain have 87% of possession and have knocked out the game well before the break. They now have the cruise control and Luis Enrique will be thinking ahead to the game against Germany on Sunday.
Michael JonesNov 23, 2022 4:36 PM
1669221176
GOAL! Spain 3-0 Costa Rica (Ferran, 31′)⚽️
31 min: Game over. Ferran Torres stands for Spain and calmly sends Keylor Navas the wrong way diving right as he slides the ball to the other corner.
Spain are 3-0 up and there is no chance of another surprise tonight.
Michael JonesNov 23, 2022 4:32 PM