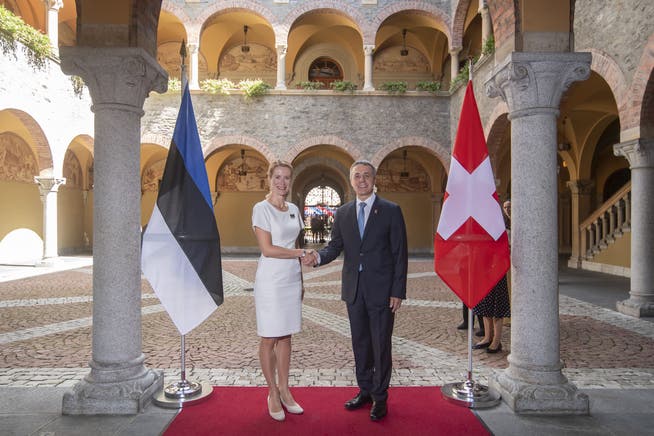 To meet

Switzerland supports Estonia with 26 million francs
Federal President Ignazio Cassis met Estonian Prime Minister Kaja Kallas in Bellinzona on Saturday. Topics included the Ukraine war and bilateral relations.
During the meeting, the interlocutors acknowledged the good bilateral relations and emphasized that they want to continue to expand and intensify them in the future. This was announced by the Department of Foreign Affairs (EDA).
This is about the area of ​​digitization, in which Estonia is a pioneer. According to the EDA, the Baltic state has digitized 99 percent of its public services. Switzerland, on the other hand, has "comprehensive expertise" in the field of new technologies. Cassis and Kallas agreed that the corresponding cooperation should be further expanded.
Another topic was the local European policy. Switzerland wants to support Estonia with CHF 26 million as part of the second Swiss contribution to selected EU member states. This is an opportunity for countries to work together on integration and biodiversity. The contribution is also a sign of Switzerland's commitment to "actively contribute to stability, security and prosperity in Europe".
Finally, the Ukraine war was also a central point of discussion. Both countries condemn the Russian aggression "strongly" and demand that Russia withdraw its troops immediately. Cassis also emphasized Switzerland's great concern about suspected war crimes and explained how Switzerland is currently helping in the crisis – for example through humanitarian aid on site or the adoption of EU sanctions. (abi)