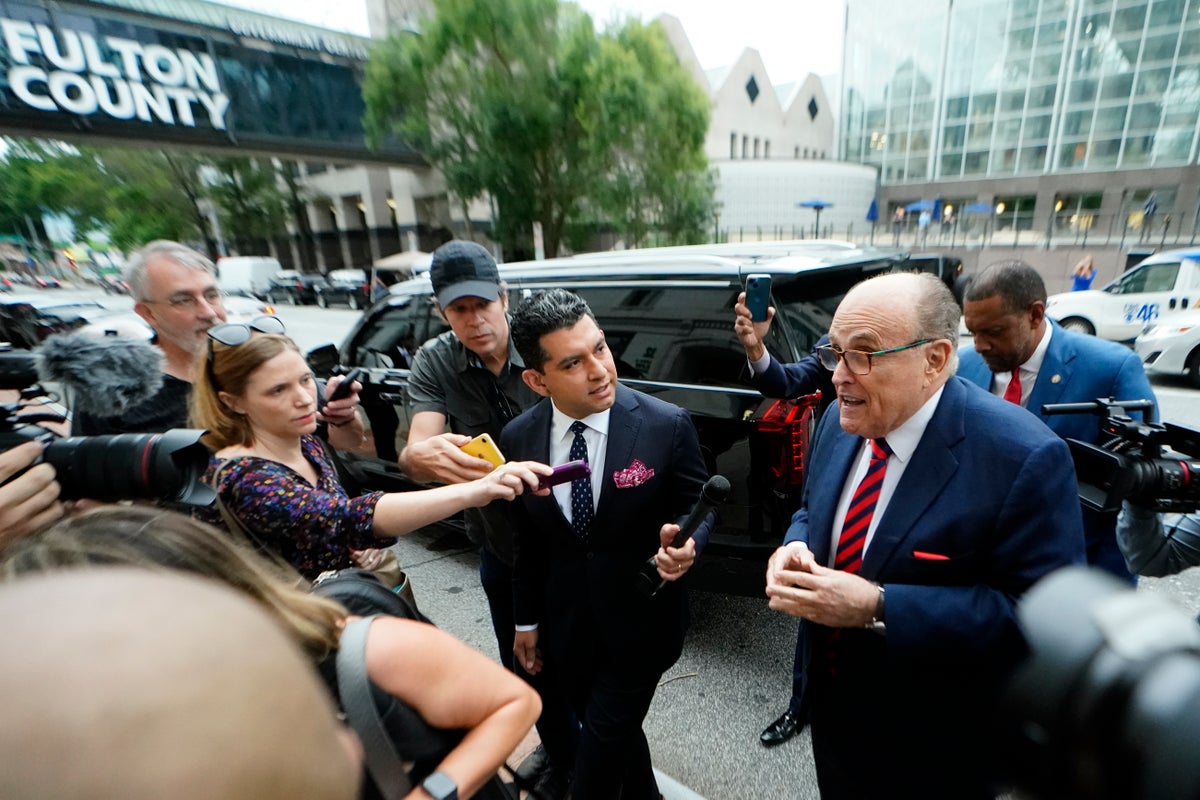 The result of a hearing in Atlanta could mark the start of a process that could see former President Donald Trump or his allies face criminal charges for attempting to overturn Joe Biden's 2020 Georgia election victory.
The jurist who oversaw the investigation, Judge Robert McBurney of the Fulton County Superior Court, heard arguments Tuesday over whether to release a report prepared by a special grand jury investigating Trump's attempts to undo his 2020 election defeat to Biden. including his calls to Peach State election officials and a plot to file forged Electoral College documents with the National Archives to give then-Vice President Mike Pence a reason to hijack the January 6, 2021 joint session of Congress by declaring him and Mr. Trump the winners of the election.
A coalition of news organizations is pushing for the immediate release of the report, while Fulton County District Attorney Fani Willis has asked the court not to make it public as she considers pursuing criminal charges against anyone named in it.
"We don't think it's appropriate at this point to treat prospective defendants fairly," she said. Mr. Trump's push to reverse his loss to Mr. Biden.
Judge McBurney said he would not make a "hasty decision" and promised the parties he would not surprise them by suddenly ordering the release of the report without notifying both parties and giving them time to appeal.
"No one will wake up when the court has published the report on the front page of a newspaper," he said.
The Fulton County judge added that it was "somewhat extraordinary" that the arguments took place to begin with, citing the subject under investigation by the grand jury as "alleged interference in the presidential election."
The special grand jury assembled at the request of Ms. Willis last month concluded its six-month investigation and recommended that its report be made public. The report is expected to recommend criminal charges against some figures involved in Mr Trump's efforts.
The jurist who oversaw the investigation, Judge Robert McBurney of the Fulton County Superior Court, will review the report and recommend that the court's chief judge dissolve the special grand jury. County Superior Court judges will then vote on whether to let the special grand jurors go or whether more investigation is needed
Since a special grand jury cannot bring charges, it is up to Ms. Willis to decide whether to pursue criminal charges before a regular grand jury.
Ms Willis, who began the investigation nearly two years ago, has said she will go where the facts lead. It would be an extraordinary move if she chooses to indict Trump herself.
"Even if he is acquitted by a jury, it would be epic for American history if he stood trial and had a public trial with evidence," said Clark Cunningham, a law professor at Georgia State University.
The judge would not rule on the release itself at the hearing, but it is expected that a decision will be made soon afterwards.
What have we learned about the research?
More than a year after the investigation opened, Ms. Willis has revealed little. But ironically, as the special grand jury began to meet in June, the proceedings shrouded in mandatory secrecy, hints of where the investigation was headed began to emerge.
That's because when Ms. Willis wanted to coerce the testimony of someone living outside of Georgia, she had to file paperwork in a public court explaining why that person was a "necessary and material witness." In addition, anyone fighting a subpoena had to do so in public trials and hearings.
In the paperwork Ms. Willis filed to coerce testimony from some of Trump's aides, she said she wanted to know more about their communications with the Trump campaign and others "involved in multi-state coordinated efforts to address the results of the November 2020 elections in Georgia and elsewhere."
Prominent Trump allies whose testimony was sought included former New York City mayor and Trump attorney Rudy Giuliani, U.S. Senator Lindsey Graham of South Carolina, former White House Chief of Staff Mark Meadows, and former National Security Adviser Michael Flynn, as well as John Eastman and other lawyers who took part in Trump's attempts to stay in power.
"We've learned from the identities of the witnesses that this is a far-reaching conspiracy she's looking at," said Norm Eisen, who served as special counsel for the House Judiciary Committee during Trump's initial impeachment and co-authored a Brookings Institution report. analyzing the "reported facts and applicable law" in the Fulton County investigation.
Have there been setbacks?
A number of Trump advisers and allies resisted Ms. Willis' attempts to get them to testify, but Ms. Willis won in most cases.
"I think that bodes well for the skirmishes to come if she charges," Eisen said.
Ms. Willis had a notable misstep when she organized a fundraiser for a Democratic nominee for lieutenant governor, while her investigation focused on the state's bogus voters, including Burt Jones, the Republican nominee for lieutenant governor. McBurney said this created "a clear – and factual and unsustainable – conflict" and ruled that Willis could not question or charge Jones, who won the election in November.
What was the focus of the research?
From the information that has been made public, it appears that Ms. Willis watched the following:
Phone calls from Trump and others to officials in Georgia in the aftermath of the 2020 election
A group of 16 Georgia Republicans who signed a certificate in December 2020 falsely stating that Trump had won the state and that they were the state's "duly elected and qualified" voters
False allegations of voter fraud at state legislature meetings at the Georgia Capitol in December 2020
The copying of data and software from election equipment in rural Coffee County by a forensic computer team hired by Trump allies
Alleged attempts to pressure Fulton County election clerk Ruby Freeman to falsely confess to election fraud
The abrupt resignation of the US attorney in Atlanta in January 2021
What about that infamous phone call?
In a January 2, 2021, phone call between Mr. Trump and Georgia Secretary of State Brad Raffensperger, the president suggested that the state's top election official, a fellow Republican, could "find" the votes needed to reverse his narrow loss in the state to be undone. against Democrat Joe Biden.
A month later, Ms. Willis sent letters to Raffensperger and other top officials ordering records to be preserved because she was investigating "attempts to influence the administration of the 2020 Georgia general election".
Trump told Raffensperger he needed 11,780 votes, one more than Biden won. That was a mistake, Cunningham said, because the specific and transactional nature of that comment makes it difficult to say that he was generally urging Raffensperger to investigate suspected fraud.
But other legal experts have said prosecutors can struggle to prove criminal intent, requiring evidence that actions were taken intentionally, knowingly, recklessly or negligently.
What costs can be considered?
In her February 2021 letters to state leaders, Ms. Willis said she was investigating possible crimes, including "incitement to electoral fraud, making false statements to state and local government agencies, conspiracy, extortion, breach of oath of office and any involvement in violence or threats related to the administration of the elections."
Many believe Ms. Willis will file charges under the statute of racketeering-influenced and corrupt organizations, commonly known as RICO. In a high-profile prosecution when she was an assistant district attorney, she successfully used that law to secure charges against Atlanta teachers in a test cheating scandal. She has also recently used it to address alleged gang activity.
The RICO state law, which is broader than the federal version, requires prosecutors to demonstrate a pattern of criminal activity by a corporation, which can be a single person or a group of connected persons. It allows prosecutors to allege involvement in a pattern of crime without having to prove that each person participated in each act.
Eisen said RICO "seems to be most in line with the nature of the people testifying and the questions she wanted to ask."
While the special grand jury was at work, Ms. Willis informed a few people that they were being targeted by the investigation, including Giuliani and the state's 16 bogus voters. It is possible that others have received similar reports, but have not made it public.
What did Trump say?
The former president has consistently called his phone call with Raffensperger "perfect" and has dismissed the Fulton County investigation as a witch hunt.
Criminal defense attorney Drew Findling, part of Trump's legal team in Georgia, said in August that the focus on Trump "is clearly a mistaken and politically driven prosecution."
Trump allies have also denied any wrongdoing.