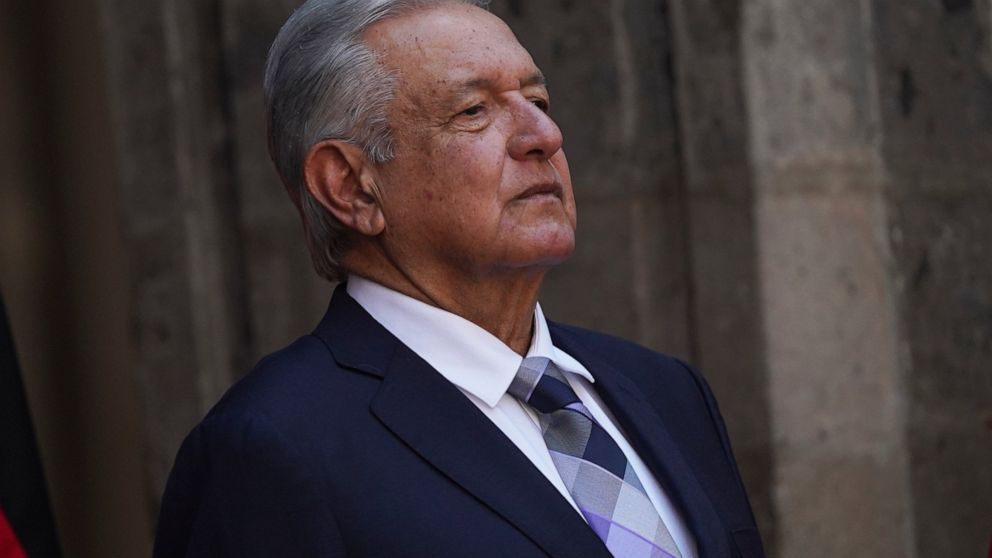 MEXICO CITY — Mexico's Supreme Court on Thursday overturned part of President Andrés Manuel López Obrador's "jail, no bail" policy.
The court voted against mandatory pre-trial detention for people accused of fraud, smuggling or tax evasion. Because trials in Mexico often take years, the judges argued that being held in prison during the trial was tantamount to serving a sentence before being sentenced.
Instead, prosecutors should convince judges that there are valid reasons not to release people on their own initiative, for example by arguing that they could pose a flight risk. The judges may vote next week on whether the possibility of parole could be justified for other crimes.
In 2019, López Obrador imposed mandatory pre-trial detention for a long list of crimes, and he sees this as part of his crackdown on white-collar criminals, such as those accused of tax fraud. Mexico does not have cash bail, but before López Obrador changed the rules, judges could release suspects and require them to wear monitors, report to court or agree not to travel.
The president has long complained about corrupt judges and court rulings he doesn't like, and Thursday's Supreme Court vote would likely lead to more vocal attacks from the president.
Even before the verdict, López Obrador criticized the court for the widely expected vote on Thursday.
"How can judges, magistrates and judges defend white-collar criminals? How is it possible that money triumphs over justice?" López Obrador said before the verdict. "What tremendous shamelessness!"
The president has not been shy about accusing lower court judges of releasing drug and other suspects on procedural or technical points with which he clearly disagrees. Underpaid, and often threatened, Mexican prosecutors often fail to bring strong cases or make deliberate or unintentional mistakes.
"They release them because the prosecution was poorly written, or on some other excuse or pretext," the president said, "because they've become very, very, very fixated on the finer points of the law."
López Obrador has fought the courts, often attacking their legitimacy and singled out individual judges for contempt, as courts have often blocked some of the president's key initiatives.
Observers say the courts have acted because López Obrador has often pushed through laws that openly violate the country's constitution or international treaties.
Earlier, the president focused his anger mainly on lower courts. At a news conference with López Obrador, Ricardo Mejia, Mexico's assistant secretary of public security, said on Thursday that the government would recommend bringing criminal charges against a judge who ordered the release of a suspected drug ring leader.
But much of the president's anger on Thursday was aimed at the Supreme Court, which is about to hear an appeal from a group saying government money and property should no longer be used to erect nativity scenes, a staple in Mexico. .
The appeal says the government's participation in the display of nativity scenes violates the constitutional separation of church and state.
The president angrily rejected that, even though the court has not yet ruled on the matter.
"That's an example. Why should they go against the traditions, the customs of the people?" said Lopez Obrador.
López Obrador expanded the list of charges for which a suspect must be held pending trial to 16, including some nonviolent crimes that can carry sentences of just a few months – far less than the amount of time most people spend waiting for their process.
Only about two in ten people charged with a crime in Mexico are ever found guilty. That means that of an estimated 92,000 suspects held awaiting trial — often in the same cells with hardened criminals — about 75,000 will go unconvicted, despite sometimes being held for years in Mexico's overcrowded, dangerous prisons.
Trials in Mexico can take a surprisingly long time. Two men were recently released with ankle bracelets after serving 17 years in prison while on trial for murder.
Being incarcerated in Mexican prisons, which are overcrowded, underfunded and gang-controlled, can be hell for those on remand, who often enter with no understanding of the prison or gang connections.
The UN Working Group on Arbitrary Detention says that "mandatory pre-trial detention violates international human rights standards".
.