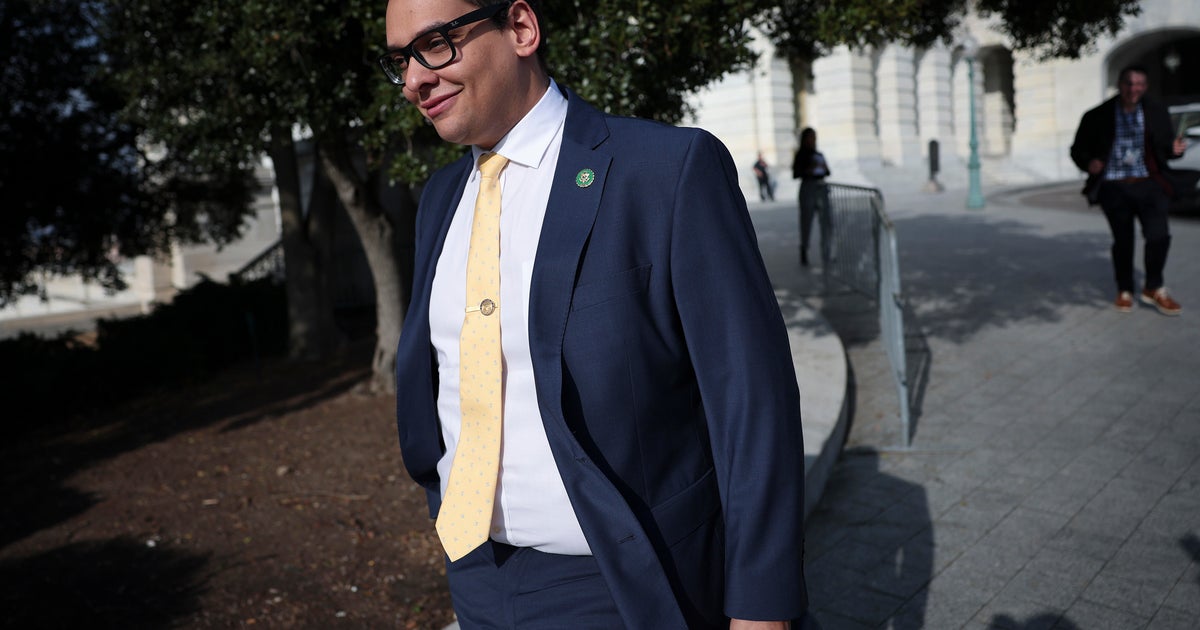 NEW YORK — There were calls on Wednesday for new laws to prevent candidates from misrepresenting themselves.
It is an attempt by voters in the 3rd Congressional District to prevent another George Santos from running for office.
This is because there are questions about his finances and background.
A bill that would make it a crime in Nassau to run for office under false pretenses called the GEORGE Package – Get Egregious Officials Removed from Government Elections. It would include mandatory background checks and other safeguards, including barring anyone with foreign arrest warrants and makes lying about a candidate's background a crime.
"Something insane but something necessary in the wake of George Santos," Nassau lawmaker Josh Lafazan said.
"We didn't choose him. We chose who we thought he was," said one person.
"More things every day he lied about. Cheated. This man has to go," said another.
Instead, Santos tends to the affairs of Congress and votes on bills, including one — ironically — to de-emphasize education in the federal hiring process.
He made light of the criticism he is undergoing.
"You know what's the one thing about this job that I love? It's the human interaction. You can't replicate that," Santos said.
Still, voters say they struggle to get routine answers from his office.
"It's very frightening because we can't get services," said voter Sheila Harmon.
A former campaign intern has come out claiming Santos told him to lie.
Lies may not get him out of Congress, but a criminal charge will. His latest campaign application raises new questions about the source of his $700,000 personal campaign loan, which is suddenly not listed as a personal loan.
A campaign watchdog group says it needs to be answered where the money came from.
"Instead of Santos making millions of dollars in a business overnight — he can't explain that, has no clients. channel," said Brendan Fisher, a campaign finance expert at Documented.
"You know, every campaign hires fiduciaries, so I don't have that answer. I'll have that answer for you," Santos said.
Some Republicans in Congress insist he is tentatively entitled to his seat.
"If anything criminal comes out, it will change the conversation. Right now it's a legal requirement for him to sit, and it's between him and his constituents," Representative Nicole Malliotakis said.
Hence the almost daily new tactics of voters, who say they won't face an imposter in their congressional seat, and ask the speaker: What else do you need to see?
Proponents say they will try to extend the so-called "GEORGE" law requiring background checks on candidates to state and national campaigns.
Speaker Kevin McCarthy reportedly told House Republicans at Wednesday's closed conference meeting that Santos will continue to serve on two committees but would lose those assignments if charged with a crime.
'Do you know why I'm behind him? Because his voters voted for him," McCarthy said.
However, polls continue to show most of his constituents think he should step down. Some of them are now trying new tactics to get rid of him.
In an open letter to McCarthy, they wrote, "We're not going to stand by and let you take away our constitutional right to representation." They are now asking voters nationwide to contact their members of Congress.
"We didn't choose him. We chose the person he created," said Susan Naftol of Concerned Citizens of NY-03.
Experts say you shouldn't hold your breath too quickly Federal Election Commission investigationeven though dozens of Santos campaign expenses fall a penny below the threshold for a receipt.
"They have a long history. You have a civil investigation that can drag on for years," said Dan Weiner, director of elections and government for NYU Brennan Center.
Freshman Congressman Nick Lalota, of Suffolk County, volunteered to spearhead efforts to help officials freeze Santos' campaign funds and return them to duped donors.
"Those financial victims of his crimes and lies need a chance to be healed," Lalota said.
.