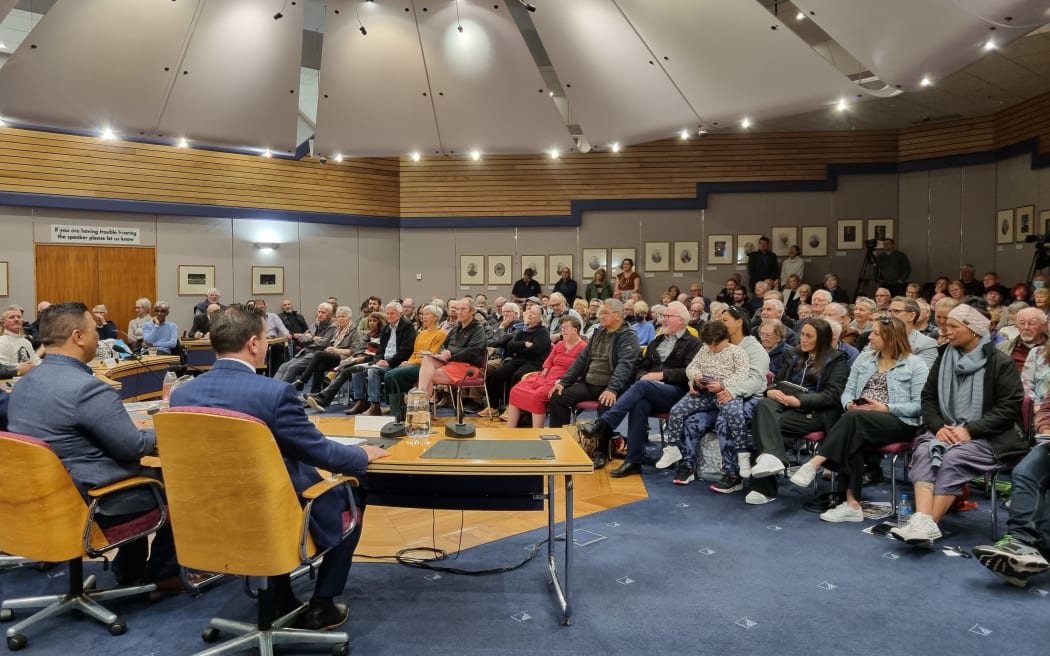 There was a lockout, a belated pullout, an impassioned defense of the mullet haircut and even a bit of policy chewed up during a packed mayoral debate in New Plymouth on Friday.
The first order of the day was for MC Matt Rilkoff – the editor of the event organizers de Taranaki Daily News – to explain the no-shows.
"Unfortunately, I made the decision yesterday to withdraw the invitation to candidate Shaun Clare after a threatening social media post he made to one of our photojournalists," he said.
Clare was upset about a photo published of him with an awkward facial expression at a previous candidate event.
Rilkoff had apologized and removed the photo from the newspaper's website, but said such threats could not be tolerated.
The absences didn't end there. Local businessman Peter Hardgrave was a belated withdrawal from the debate.
"He retired last night and he is said to be showing threatening behavior from fellow council candidates, so we'll be investigating that today," Rilkoff said.
Six mayoral candidates remained, including three incumbent councilors and incumbent Neil Holdom, who is seeking a third term.
Each candidate had 90 seconds to make their pitch to the mayoral chains before asking each of them tailor-made questions.
Murray Chong highlighted his experience after three terms on the council, while fellow councilor Sam Bennett said he wanted to "pause and reset" the council's long-term plan.
Businessman Greg Mackay had a copy of that momentous document that he was trying to tear in half — a stunt he pulled on the campaign trail at least twice before.
Dinnie Moeahu — a current councilor seeking to become New Plymouth's first Māori mayor — cited his community work earning him an NPDC Citizens Award and Taranaki Person of the Year Award.
Holdom spoke about what he wanted to achieve in the next three years and reiterated his stance on Three Waters.
"You'll find there's a lot of focus on infrastructure and I think we should keep it local. I'm against the Three Waters reform.
"I believe Taranaki can do better and we need less centralization from Wellington, not more."
The questions addressed to individual councilors cut to the bone.
McDowell – aka Muzz the Mullet Man – was asked why voters should take him seriously when his campaign was largely based on a haircut.
To applaud, the former truck driver and motorcycle enthusiast replied:
"Because I'm a man of my word…it's actually a fashion and I've had this thing for 35 years and it's like…it's pretty simple, it's my identity, but you have to look at the person inside their hearts, if they speak from their hearts.
"The point is, I've done my homework… the point is that every vote counts and I'm not saying you should vote for me, what I'm doing is giving you all an option."
Mackay was asked where he had been since the last municipal election, when he was also mayor, prompting a candid response.
"I've been thinking for the past three years how can I get back… I've had problems, I broke my back a few years ago and still don't have much strength and much.. a few marital problems to solve and children to solve, but I'm back.'
Chong has made headlines for his embarrassment over the te reo Māori version of the national anthem, for flying the Confederate flag, his role in the illegal occupation of parliament grounds and even a public outcry over a parking ticket issued by his own municipality.
He was asked if he could represent the entire community, while as a councilor he had regularly alienated parts of it.
"I would say that the media is half of this problem. All those allegations had a huge spin in the media and a lot of people believed it.
"I only have 90 seconds to explain myself, but if I want to come to me, I'll tell you the real story. I'm really pissed about how the media is twisting these things."
Holdom didn't get off the hook either.
The heat was put on him over planned $248 million water infrastructure upgrades, a $40 million pledge for a new sports center and another $30 million for the extension of the Coastal Walkway to Waitara.
These came with a rate increase of 12 percent this year and 7 percent for subsequent years of the long-term plan.
Holdom was asked if his dream of creating a "lifestyle capital" in New Plymouth only applied to the wealthy.
"I think the investments we're proposing are really about storing value for future generations.
"The fact that we have to catch up on infrastructure reflects that we as an organization have failed to deliver in the past.
"Too many municipalities have put things on hold because raising rates is politically unpopular. I am incredibly proud of the team you have chosen and the way we have worked together to say we are going to do the right thing, not what's popular."
The mayor-promoters were also asked what they saw as the main challenges for the neighborhood and what their vision for the neighborhood was before answering questions from the public.
Those in attendance wanted to hear how the candidates would deal with climate change, work with iwi and what the district's pedestrian paths would be like.
The ballot papers have been delivered and the elections for the municipal council close on 8 October.
.