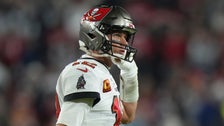 Tom Brady this week sued a $16,444 fine for attempting to trip Dallas Cowboys safety Malik Hooker during a playoff loss. (Watch the replay below.)
The "obviously foul play" took place as Brady's Tampa Bay Buccaneers were blown away in the wild card round earlier this month. The quarterback attempted a dangerous slide tackle from behind while chasing Hooker after the defenseman recovered an apparent fumble.
Brady was not penalized at this time, but the NFL later issued a fine. Brady said he would appeal.
"I tried to trip him, but I didn't," Brady said on his "Let's Go!" podcast. "So I don't know how you can get fined for something that didn't even happen. Do they fine an intention? It's like targeting and you miss the person you hit, and they still call it targeting. So I need to find out and understand why this is the case.
The TV replay shows that he may have made contact despite his claim.
Brady added that he wished the players' union "were stronger" to deal with such issues.
Brady's pushback irked some sportswriters.
"Just pay the fine, dude!" wrote Andy Nesbitt of USA Today's For the Win.
"Sometimes he acts like a punk when he doesn't get his way," wrote Mike Florio of Pro Football Talk. "In this case, he admits he did it. His excuse is that the trip didn't really trip Hooker.
"He just has to take his L, shake the coins from the couch cushions, pay the fine and move on," Florio added.
On the same podcast, the seven-time Super Bowl winner also swore in anger when podcast partner Jim Gray asked him about his future.
It was an appropriate question. Brady, 45, is a free agent after a rough season that included a divorce and several on-field tantrums.
.