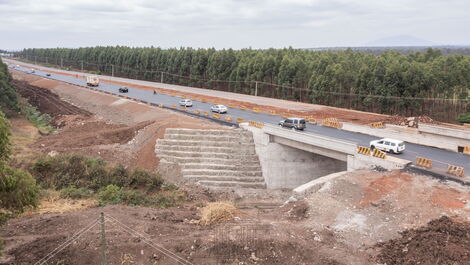 President Uhuru Kenyatta began his two-day Mt Kenya tour on Saturday, August 6, where he launched several infrastructure projects.
The most important of the projects inspected was the Kenol-Marua Road, which is 75 percent complete. The project was carried out to extend the road linking Kenol in Murang'a Province from a two-lane single carriageway to a four-lane dual carriageway.
The 84-kilometer road crosses the counties of Murang'a, Kirinyaga and Nyeri. It will also be part of the 800-kilometer Great North Road linking Kenya to Ethiopia and other African countries.
An aerial view of part of the Kenol-Marua Road in Murang'a County, taken on Saturday, August 6, 2022
PSCU
In 2020, the Uhuru government undertook the project in an effort to unlock the Mount Kenya region and parts of the Eastern Provincial Regions.
The dual carriageway is expected to be completed in December 2022.
10 modern markets and 45 boda boda sheds will also be built along the way. In addition, the government has also committed to the construction of a state-of-the-art bus park in Karatina Town in Nyeri County.
President Uhuru, while inspecting the highway, defended his heavy investments in roads, arguing that infrastructure is the key to the foundation of economic development.
"Infrastructure development is the measure of performance. The foundation of growth lies in infrastructure projects, which is why we have prioritized progress in infrastructure."
On Monday, he inaugurated the Ksh 24 billion Karimenu in Kiambu County. The Kirigiti Stadium was also launched on the same day, adding to the list of the mega projects undertaken by the Jubilee administration in the region.
Uhuru will also commission the Mwai Kibaki Level 6 Hospital in Othaya, the upgrade of which has cost Ksh1 billion.
the hospital sostarted as the Kenyatta National Hospital (KNH) Othaya Annexe, before being renamed in honor of the late President Mwai Kibaki.
Uhuru previously urged the incoming government to continue with his development agenda after his retirement. He also defended his decision to borrow from credit facilities, stating that the money can be used to grow the economy if not embezzled.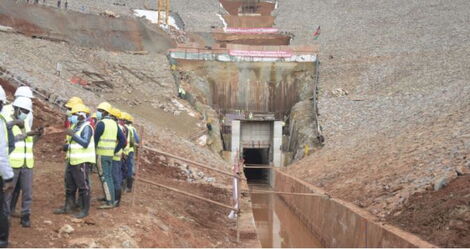 Karimeni Phase 2 Water Project in Gatundu North Sub County.